CCR Naphtha Reforming Unit Turnarounds II Rx Internals Inspection w/ Upflow Centerpipe
This article is the second in a series on Rx Internals Inspection but with focus on equipment underneath the coverdeck.  Although, I'd like to touch on a broader TA topic that merits reinforcement with contractors and refinery personnel alike – protecting gaskets and seating surfaces. Turnarounds bring a level of activity with the movement of tools and other equipment that is challenging on several fronts. Time to completion is critical, but care in the execution of each task will directly impact that goal.
Protecting Gaskets and Seating Surfaces
Protecting seating surfaces from damage is often overlooked as a high priority. Manways and other flanged connections are frequently open while maintenance personnel are moving tools and other equipment around on a congested landing.  It's not unusual for a manway or flange's seating surface to get struck by a wrench, leaving a gouge in the serrations that is the seating surface for the gasket.  The damage shown below (left) is a big deal and can set your restart back significantly, as many times it isn't revealed until it leaks after restart. Please protect these surfaces with heavy cardboard, wood or whatever is suitable.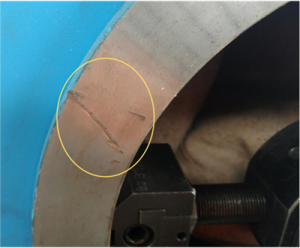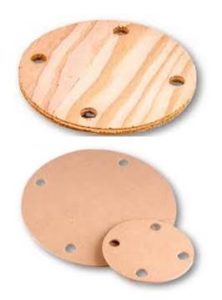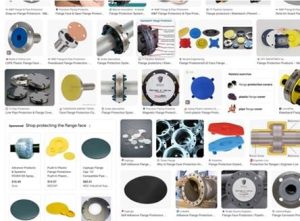 Note: The importance of safety and safe working conditions can be reviewed in my previous article .
Once the top of the coverdeck has been photographed (as-is), it must be cleaned in preparation for inspectors to continue with their work. Start preparing to remove coverplate sections, and as these sections are removed, be sure to leave enough sections in place to safely walk around the top of the coverdeck.
Inspection – General:
Always coordinate your intent to make Rx entry with other groups and make sure you have a hole watch outside of the Rx or vessel manway while you or anyone else is inside.  Note: There should be a priority for a select few from operations to witness what is infrequently seen by their group.
Using a rope ladder and appropriate lighting, make safe entry and descend to the bottom of the Rx.  Generally, the heel catalyst has been removed before inspectors enter, but, if possible, have the crew cleaning out the heel catalyst take a few photos around the base of the centerpipe and Rx walls from their ladder. During this cleanout, ask the crew to also separate out and retain any nuts, bolts and large pieces of coke that may be visible. That material should be given to an inspector or team leader for review with a larger group.  Once all loose debris has been removed, inspectors can begin their inspection without any obstruction.
Note: Debris (nuts and bolts, etc.) in the Rx's may fall from one Rx to the next and it's not always possible to prevent it. Much of that material will be found when you drop the catalyst collector. You may alsofind debris in the piping below the catalyst collector or in catalyst lift line below the Rx's. If you have a unit with an "L" valve assembly, you should always check and clean the drop-leg at the base of this catalyst lift line assembly.  Again, keep this material as it should be easily associated from where it came.
Centerpipe and Centerpipe Support Plate: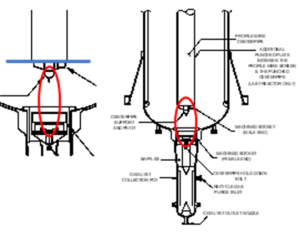 The centerpipes weight is supported by a ball and socket connection (circled in red).  As part of its installation, the centerpipe height is adjusted to prevent the OD (blue line) from resting directly on the support plate. This results in an intentional gap at the base of the centerpipe.  Your licensor, vendor or inspector will provide guidance on how to correctly set that gap.
During your inspection, make sure that the base of the screen is not bent, crimped, or damaged in any way. If it is, bring it to the attention of the inspectors so they can properly assess the damage and provide their recommendations.
Additionally, by hand, check to see if there are any loose bolts around the CP support plate. If you find one that is loose, report it and identify it to make it easily visible to others.
Guide Vanes: On an upflow centerpipe there are guide vanes around its base that are integral to the support plate and direct flowing catalyst to the next Rx or piece of equipment. Inspect these guide vanes for cracks as they do form from time to time.
Run a plumb bob down each of the guide vanes to ensure that all catalyst transfer pipes are clear to the next Rx or piece of equipment.
It's not unusual to find areas where centerpipe profile wire is damaged. A common type of damage found is called a "fisheye" that's caused by axial stress. These will be marked by an
inspector and later repaired.  Although, a discussion should take place on how the repair is completed.  If possible, have a machinist look at the damage and ask if they can gently "peen" the wires back into place. This is often the preferred way to repair fisheye damage over welding a patch.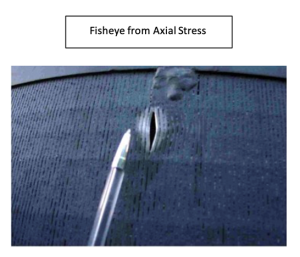 Welding on profile wire presents some challenges.
The adjacent wires in the heat affected zone are weakened and now more likely to fail.
Most customer work is bulky by comparison to factory welds that are 2 ~ 3 mm's wide. Unnecessarily thick welds will become a likely place where profile wire will fail again.
Recommendations:  
Always have 2 ~ 3 spare complete panels of profile wire on site. In the case where you have single panel with several small repair, it's better to replace the entire panel.
Contact Jyour vendor and request a welder, try toprovide as much lead time as possible.
If a patch must be welded in place, use an oblong shape as the corners on square or rectangular patches are high stress points during radial and axial growth and contraction.
Scallops and Scallop Bases: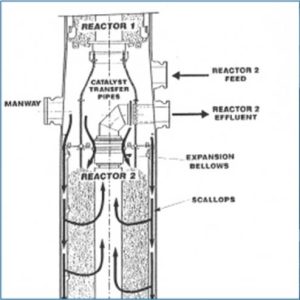 Scallops direct the feed gas flow radially across the entire catalyst bed.  When they get damaged or flattened, it's due to high catalyst bed pressure. When this occurs, the feed gas flow down the scallop(s) isn't uniform and will result in uneven flow distribution across the catalyst bed. Many times there's a perceived catalyst performance issue, but the catalyst itself may simply be underutilized. Flattened scallops also open up the volume of the catalyst bed, and with that you should expect you'll need more catalyst than design to reload the Rx's and bring the reduction zone up to the correct level.
Some customers decide to leave these flattened scallops in place (regardless of advice), as they weigh the pros and cons of repair and downtime versus the loss in equipment performance.
If you do change out  scallops, always salvage the base.  Most newer scallop designs have reinforced bases and having a spare can be a lifesaver-As these reinforced bases are not quickly fabricated in a refinery machine shop.  Another tip is to keep some scallop material (punch plate) because it can easily be used to fabricate small patches for centerpipe repair.
While standing near the bottom of the scallops, look for damage at the base of each one. It's not unusual to find them crimped, and this is why more recent designs are reinforced.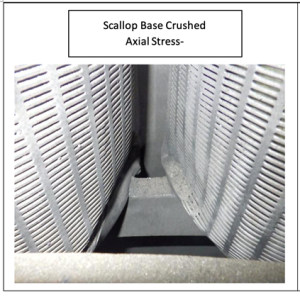 This damage (left) was caused by axial stress and will also shorten the design scallop riser height above the coverdeck.  Also, look at the scallop support ring that the scallops rest on and the lugs that are welded to the Rx wall that support the ring. These lugs are generally not a problem, but with larger units the weight of the scallops and axial load during operation has driven some licensors to add more lugs. Make sure there are no cracked lugs or welds to the interior Rx wall.
From top down and bottom up an inspector will inspect and document what they find. Many of these images were taken during an inspection. An important aspect of inspection is identifying static areas where coke growth has begun or Metal Catalyzed Coking (MCC) has formed. Look between and behind scallops to locate any coke growth. Eventually it needs to be removed but may need to be retained for further analysis e.g., amorphous coke or MCC.
Expander Rings
Expander tings are pretty simple in design and purpose. These rings are primarily there to provide support for the scallops when the Rx is empty, as the catalyst will hold the scallops in when loaded.
As you can see (below right) there is an adjustment to set how the ring fits. There will be specifications in your design and engineering manuals and that should be referenced. Once you've seen these rings a few times it's pretty easy to simply lift the ring and see that it isn't tight against the scallops, but not too loose.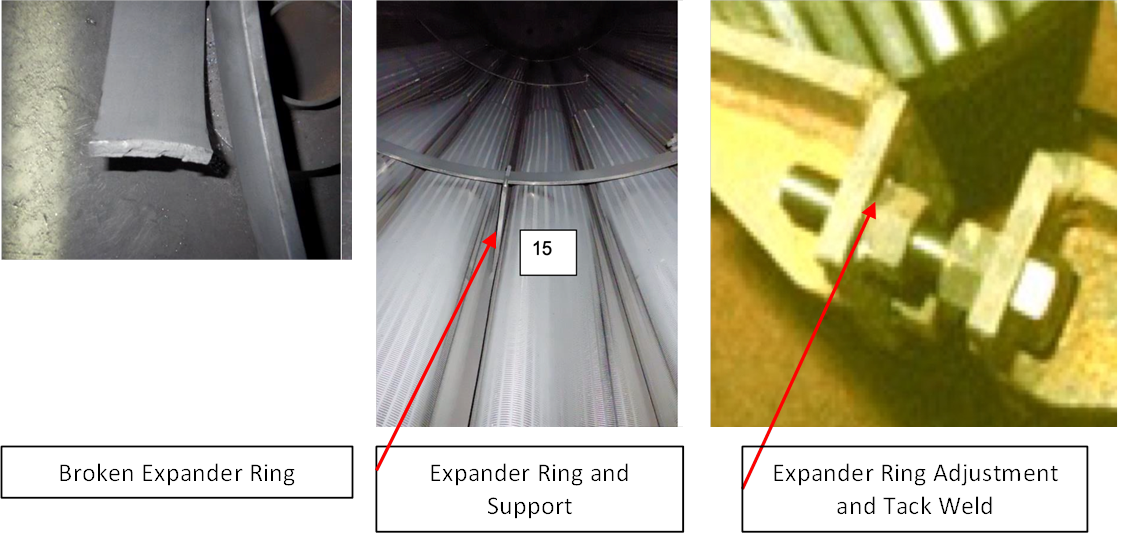 As you work the length of the Rx, periodically take a measurement of the annulus 90° apart and document the level where the measurements were taken and the gap. This will identify a few things, but also will help in estimating how much additional catalyst may be needed if there is scallop flattening. If the scallops are in good shape, the annular gap should be pretty consistent.
A plumb line or equivalent may also be used by the inspector to check how true the centerpipe is to vertical.
As an additional observer you should also be alert to wire damage and how fouled or plugged the screens are with catalyst. Note: Do not use carbon steel brushes to clean the screen or punch plate. The carbon steel will rust, and the iron left behind can support MCC growth. Use stainless steel brushes and avoid using wire wheel as they can damage the profile wire.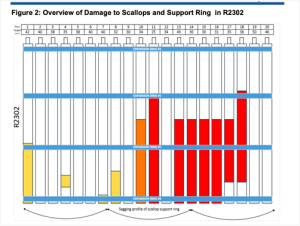 It's always fair to ask if one of the refinery personnel can shadow the inspector to learn from them, but that has to be worked out ahead of time with the inspector.
If you have any questions or concerns, please add them as a question to this post.