Reliability Program Implementation and High Altitude Climbing – What They Have in Common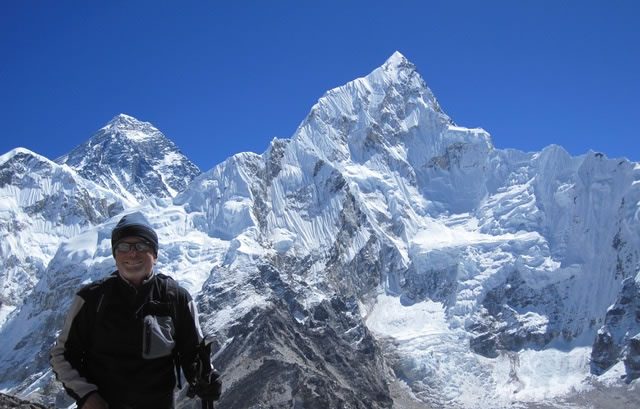 This is the third in a series of Blogs on improving plant reliability performance through changes in culture, programs, equipment design, maintenance and operation. [Click link to review Making Bad Actor Elimination Programs Work; or the second blog, Reliability Beliefs – Driving Organizational Accountability] This blog compares experiences in successful high-altitude expedition climbing and the effort to implement a true world-class reliability program in your plant.
The similarities of implementing a strong reliability program and climbing a big mountain became apparent a number of years ago during the planning stages for a climb on Kilimanjaro. This peak is the highest point in Africa and one of the "Seven Summits" or highest points on the seven continents. From an altitude standpoint, Kilimanjaro at 19,340 feet is in the middle of the pack with 3 summits higher and 3 that are lower than "Kili." Although Kilimanjaro is a walk up, it has unique challenges as you pass through 5 climatic zones from Rain Forest to Arctic during the 5-day ascent. At the summit the air pressure is so low that you are only taking in about 50% of the oxygen you would normally breath in at sea level.
These learnings were reinforced on both successful and unsuccessful climbs in Argentina, Ecuador, Nepal and on the Colorado 14,000 foot peaks. Success came with passion to pursue this amazing endeavor, preparation of equipment as well as being physically and mentally ready with the ability to persevere under the most adverse conditions. When all of these elements came together there was success reaching the summit. However, when shortcuts were taken in preparation or passion and perseverance faltered, the climb was difficult or impossible. During my career – focusing on improving plant reliability – I found the same result if any of these three elements were missing.
Several key points were identified as my son and I prepared for and executed the successful climb on Kilimanjaro. These included:
Setting a realistic goal
Planning for success
Training
Selecting the right equipment
Picking a great partner
Having enough help
Having a vision of what success looks like
Setting a reasonable pace
Making progress toward the goal each day
When we think of putting together a reliability program these elements are relevant and must be considered. This blog reviews each element and how each one relates to our reliability program and mountain experience.
SETTING A REALISTIC GOAL
As we considered potential peaks to climb beyond our experience on Colorado's 14,000 foot peaks (or 14ers), Kilimanjaro seemed to be a reasonable goal. The altitude seemed achievable for a challenging 5-day ascent, weather on the equator should be tolerable despite reaching arctic conditions on the summit and distances and ascent per day were reasonable. We had not experienced altitude sickness issues up to 14,400 feet in Colorado and assumed with a 5-day period to acclimate to the high altitude the ascent was possible. It seemed to be a reasonable starting point for a high-altitude ascent. As Clint Eastwood aka Harry Callahan once said, "A man has to know his limitations."
In the world of plant reliability programs, management often wants to start out on the equivalent of Mount Everest. Goals are overly challenging, resources not available, personnel may not have the right training and equipment in the plant may not be capable of achieving the expected performance. These programs inevitably fail. An honest dialog of what is reasonable must be considered. A good management technique sets a goal called the "Pathway to Action." Using this model, an evaluation of the current state, desired state and "how to get there" is performed. It is often easy to see the future state such as 99% on stream time or 84 months mean time between repair for pumps. However, one must be realistic about the current state in order to develop the pathway to the goal. It's easy to say "I want to climb Kilimanjaro" but if the current state is I am 30 pounds overweight, out of shape and have never done a long hike or camped out, the pathway to action may require a long time and significant training.
PLANNING FOR SUCCESS
The planning process for climbing Kilimanjaro started a year before the trip. Guide companies were evaluated, a training program was laid out, air fare was purchased, a complete medical exam including nuclear cardiac stress tests and immunizations was completed and equipment for the trip was selected. Similarly, a long-range plan must be developed for reliability program implementation considering the same things: resources, companies that can provide support, funding, training of personnel and equipment. We often see plants charge down a path (perhaps as dictated by management) without the required resources and time to implement the programs. In high altitude climbing, time is needed for the body to adjust to higher and higher altitude. It's not possible to push the ascent too fast. The result will be a number of very serious health issues and stop the climber in his or her tracks. Likewise pushing program implementation too fast or a lack of planning can result in failure.
TRAINING
Prior to traveling to Africa, we knew getting in excellent shape would be critical. We consulting with the guides and other people who had successfully climbed the peak to develop our program. At the end of the day we used our Colorado 14ers as the training ground and climbed 19 of them in the three-month period prior to the trip. I believe the best way to train to climb is to climb. This was supplemented by daily aerobic and strength training.
In plants often we see engineers, technicians and first line supervisors "thrown to the wolves" with direction to make the plant run better. This can often put untrained and unqualified personnel into a critical job. A well conceived plan with properly trained personnel in charge of the program will set the plant up for success.
SELECTING THE RIGHT EQUIPMENT
I started riding motorcycles when I was 14. A friend's Dad owned the local motorcycle dealership. Lee's motto was always "If you have a $10 head, buy a $10 helmet." The same applies for climbing gear and the equipment we put in our plants. When you are in a blizzard, freezing at near 20,000 feet, you may wish you spent an extra few bucks on a tent, sleeping bag or parka. However, at that point it's too late to consider what should have been done. The same is true in our plants. Once equipment is installed, it is very difficult to justify and execute retrofits. A few years after climbing Kilimanjaro we did Aconcagua, another of the Seven Summits, and much more challenging than Kilimanjaro. I thought I paid a lot for my double insulated plastic boots but then realized it was only $50/toe and I wanted to come home with all ten of them.
When we consider purchasing equipment for a plant, good quality equipment built to exact specifications is critical and retrofitting is very difficult. We often find plants with threaded lightweight small-bore branch connections. Putting in a robust system during initial construction costs almost nothing but is a huge cost burden to retrofit later. This concept applies to many classes of equipment in a plant. The engineer must push back on pressure to reduce standards that will ultimately cost the plant money in poor performance, safety incidents and ultimately a costly retrofit.
PICKING A GREAT PARTNER
I selected my son as my partner for the climbs on Kilimanjaro, Aconcagua, Rainier and many Colorado 14ers. He had attributes that complimented my own skills. He was exceptionally strong, an experienced winter mountaineer and back country skier and knew how to motivate me in difficult conditions. He of course picked me for financing.
The right partner for implementing a reliability program can be an experienced mentor, consulting firm with extensive experience, personnel from another plant with a sound program in place or a combination of these resources. The important thing is to have a partner to help, guide and be a sounding board for your program.
HAVING ENOUGH HELP
When we got to the Kili trailhead and met with the guide we were quite surprised to find not only a guide but an assistant guide plus seven porters to carry our gear, food and other supplies. I asked the guide how many other climbers were joining us. He replied that it was just the two of us. During this discussion, it became apparent how challenging it is to climb a peak such as Kilimanjaro. It was going to take 9 experienced people to put just 2 of us on top. During the ascent we saw guide companies that had scrimped on support personnel. The climbers suffered with poor lightweight equipment and inadequate food supplies. Since we had a great support crew we were able to be as comfortable as possible and consumed fantastic meals to help keep ourselves strong and rested while heading up to the peak.
On the reliability side, resources are often scarce and difficult to justify. We find this especially true when plants have poor equipment or have failed to keep up with basic record keeping and implementation of basic programs such as the Process Safety Management rule. Climbing out of this hole is very difficult. Plant management often desires to improve performance but cannot fund placing the basic building blocks in place like 'as-built' drawings, accurate P&IDs, basic inspection plans and a good PM/PdM program. The task seems so difficult that after a short period the plant may give up and revert to the current state. Again, a realistic evaluation of the current state and path to the desired state must be laid out.
HAVING A VISION OF WHAT SUCCESS LOOKS LIKE
It is important to have a vision of what the plant will look like after putting a world class system in place or the satisfaction of being on the top of a big mountain. This will certainly stir your passion, motivate you to do the needed preparation and persevere through hardships to reach the goal.
I came from an organization that had a plant in Europe that was a superior performer. They had taken a plant that was built with average standards and performance and turned it into a model for Operational Excellence. Visiting this plant was a pleasure. They knew the condition of equipment, had time to plan and improve since there was minimal firefighting, bad actors were methodically eliminated and the staff was well trained. Failures and outages were embarrassing and unacceptable. This plant became the vision of success for plants in the Enterprise and all plants wanted to be as good as this plant. The plant also served as a guide to help others in the company improve.
This also applies in mountaineering. Prior to going to Africa, my son and I had climbed 19 Colorado 14ers. There is no better feeling than taking the last step up, realizing you can't go any higher on this mountain and celebrating success of being on top of yet another beautiful peak. Upon reaching the summit we would meet other climbers, share a meal and enjoy the scenery while recovering and preparing for the descent. At this point we could imagine what it would feel like to get to the top of Kili.
In a plant, this feeling may come after months of hard work resulting in reliability improvement. At this point it's important not to relax. Maintenance of a reliability program and the descent of a mountain can be as or more difficult than the program implementation or the climb.
The descent of a mountain is similar to sustaining a reliability program. You have reached the goal but the most difficult part may lay ahead. Most climbers realize the descent is the most dangerous part of the climb and most accidents happen going down. Likewise sustaining your program after touching good performance can be extraordinarily difficult and discipline is needed to stay the course.
SETTING A REASONABLE PACE
We often see rookie climbers on the easier Colorado 14ers race ahead from the trailhead. These people are often completely exhausted or suffering from altitude issues at 12,000 to 12,500 feet elevation. They would have had a much better chance if they had set a reasonable and slower pace, took breaks to hydrate, eat and enjoy the beautiful scenery.
As we neared the summit of Kilimanjaro we moved at a snail's pace. The ascent from the Barafu camp at 15,200 feet to the summit at 19,340 begins at midnight. A technique called "rest step" is used for much of the ascent. A step is taken and the trailing leg is locked to put weight on the skeleton rather than muscles thus conserving oxygen. One or two breaths are taken and expelled pursing the lips to force more oxygen into the lungs. This is called "pressure breathing." Using these techniques, the climber is able to press on for hours and by dawn we were on top.
Throughout the night we came across climbers who were way ahead of us but had pushed too hard and too fast and were exhausted well short of the goal. This can happen in plant reliability programs. Unrealistic goals can be imposed on the team resulting in mistakes, backtracking and burnout.
MAKING PROGRESS TOWARD THE GOAL EACH DAY
Thanks to our exceptional guide, each step on Kilimanjaro was on the right path to reach the summit. This is important for both passion and perseverance. It is very discouraging to start an ascent in the dark only to find you are on the wrong path as the sun comes up. A friend attempting to climb the 14er, La Plata, appropriately started before sunrise. However, at sunrise, he found he was climbing the wrong peak. When he was back at his vehicle, he discovered he was parked at the trailhead but in his haste headed in the wrong direction. Backtracking and having to regain altitude is very discouraging and can result in a failure on the climb. Likewise a shifting reliability program where firefighting, changing direction and shifting priorities distract from moving toward the goal is very frustrating for any organization. I found that during program implementation some resources had to be directed toward firefighting. During a climb, this might include setting a fixed rope across an unknown obstacle, caring for an injured climber or scouting out a better route. Other resources should remain focused on developing procedures, implementing programs or designing a fix for a bad actor.
CONCLUSION
I hope my experience on implementing reliability programs and climbing big mountains will provide food for thought as you develop your programs. If you can focus on Passion, Preparation and Perseverance I believe your chance of success will be greatly increased. Becht Engineering has numerous resources that can guide your organization to the pinnacle of reliability performance.
Becht Engineering has experts in all equipment disciplines as well as trained reliability professionals who can assist your facility in implementation of effective programs. These efforts have significantly improved reliability, safety performance and production in a variety of plants. Please contact us if you have questions about this article or other aspects of plant reliability improvement. You may also post a comment for the author at the bottom of this page.