Corrosion & Materials
Becht's industry-leading Corrosion and Metallurgical experts are here to help with significant owner-operator experience covering the refining, petrochemical and chemical industries. This expertise is leveraged to help our clients become more proactive in addressing the long list of industry's damage mechanisms. We apply this expertise scaling from fleet wide assessments all the way down to individual equipment and circuit recommendations. Our expert guidance is not influenced by sale or offering of any inspection services, but rather is always focused on what is best for the Owner.
Contact an Expert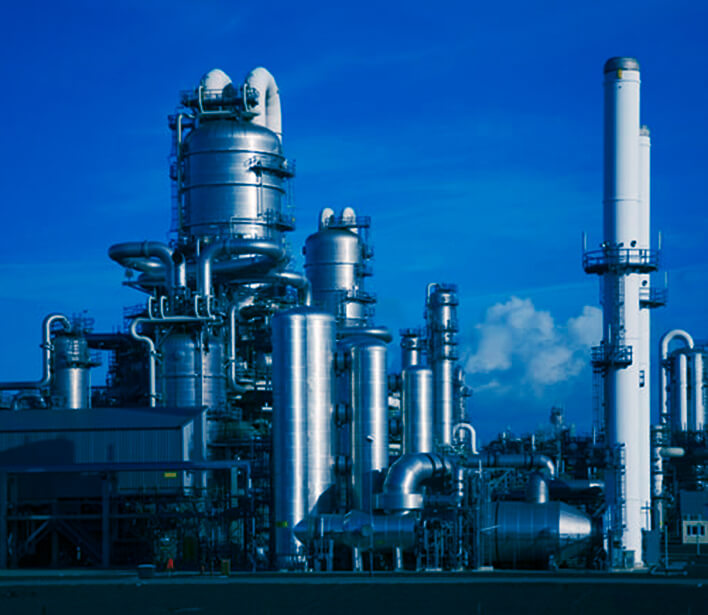 Fixed equipment Mechanical Integrity and Inspection Support
Corrosion Consulting and Troubleshooting
With decreasing inhouse experienced corrosion & metallurgy support and more complex crude slates, unexpected corrosion issues can seem insurmountable. The PONO Division is here to navigate our clients through these challenges and drive long-lasting solutions with our 50+ experts, encompassing over 1000 years of experience. Our combined expertise as well as our owner-based experience allows us to provide the right solution for your specific need.
Our experts often work with the Becht Process Engineering Division and their process experts to solve tough corrosion problems. Our corrosion experts in refining, chemical, and petrochemical processes can handle most any corrosion or materials issue from one off problems to larger program implementation. Our team is highly active in industry organizations with chairs and committee members in API, NACE, MTI, and other organizations.
Some recent examples of challenges we have helped our clients solve include:
Duplex Stainless Steel REAC failures Root Cause Failure Analysis showing issues with welds
Unanticipated high corrosion rates in equipment, where would not normally expect it. In one case carryover of tower packing lead to blocked tubes in an airfin and then much higher flow rates through remaining tubes causing ammonium bisulfide corrosion
Resolution of hotwall FCC reactor creep weld cracking and repairs
Using Becht fundamental model of sulfidation and nap acid corrosion helped refinery with crude slate selection and identified critical circuits to monitor. This allowed the refinery to run higher margin crudes
Industry guidance regarding recent HF Alkylation Unit related corrosion failures to help prevent others from the fate of the Philadelphia Refinery.
Corrosion Control Documents (CCD's) and Integrity Operating Windows (IOW's)
With today's rapid turnover and multiple demands on plant engineers' time, it can be challenging to undertake large pro-active programmatic studies.  Becht's industry leading CCD & IOW program helps bring wisdom and practical experience to our clients to help them not only meet changing industry regulations but to also better manage the risk of their Units. Becht PONO, which implemented over 180 units in 2019, utilizes a team approach with Corrosion SME's and project managers, which allows us to deliver the highest quality, timely CCD's and IOWs for our clients and can handle site wide and multi-site implementation programs.  We can help your plant identify degradation risks, since the Becht experts wrote the API documents (API 970 and API 584 2nd Edition).
In addition, we now offer a web-based interactive PFD viewer for your corrosion control document, ECCD, combining the detailed information of a CCD with an easy to use and updated visual viewer of your unit specific PFDs.
CML Optimization
One of the highest costs of any MI/Inspection program is thickness monitoring.  Just measuring and recording readings only scratches the surface in the real value of your thickness data. Becht is experienced in truly optimizing your CML program to efficiently place locations for thickness gauging based on the expected damage mechanisms.  Most circuits are not actively corroding, and operators spend countless money and time on these circuits, whereas they would get much more bang for their money if they focus most of the attention on the few active corrosion circuits.
Becht's Corrosion Monitoring Location (CML) Optimization programs has high value in that they help the plant maximize the allocation of your inspection resources to the highest risk areas. Our process is supported and enhanced by our corrosion experts to allow you to get the most out of your program. Becht is independent from any thickness reading NDE supplier and therefore can provide unbiased advice regarding CMLs. Becht also are experts at analyzing thickness data and predicting when piping needs replacement.
HTHA Risk Assessment and Management Planning
HTHA has been a challenging issue for the refining and ammonia industries. Becht has developed risk-based prioritization methods using our practical experience and supported by our Mechanical Engineering Division in fundamental mechanistic modeling of HTHA. We have developed time-based Nelson curves that can help plants assess varying operating conditions over time and make those hard run/replace/inspect decisions.
Our NDE experts have been involved in the new API 941 Appendix E rewrite for advanced UT methods to better detect HTHA. Becht can offer a complete HTHA solution to customers performing risk prioritization, NDE planning, and interpretation to detect and characterize HTHA damage and then perform FFS on that damage. We also invented a machine and offer it for sale or provide the service to remove scoop samples from equipment for confirmation of potential damage and the divot typically does not require repair.
Creep assessments, failure analysis, material selection, welding, repair plans and turnaround support
Pono's experts can assist customers with the following services:
Corrosion and creep damage calculations for heater tubes and can arrange for creep testing
Forensic metallurgical failure analysis through our partner labs. We interpret the findings and provide practical advice to clients.
Our welding expertise, with an owner's perspective, helps customers develop unique, cost effective repair options and ensures confidence in their long-term reliability for any material.
Our experienced team has seen it all, this becomes important when considering repair options. We try to provide practical, efficient, moderate cost, and technically feasible advice related to repair options. We work closely on FFS assessments with the Becht Mechanical Division to provide the best FFS advice.
Fixed equipment Mechanical Integrity and Inspection Support
All too often with FEMI it's approached with a narrow focus that misses the big picture of what a complete FEMI program can do to mitigate risk and increase reliability.  Our fixed equipment MI experts have been leaders in previous owner-operators driving global programs that tied the complex pieces of an FEMI program into a single cohesive approach.  Our Engineers have been the chairs of the API Subcommittee of Inspection and Mechanical Integrity, chief inspectors, and have implemented MI programs at plants.
Fixed Equipment Mechanical Integrity (FEMI)
Becht expertise covers a wide range of FEMI topics that go hand in hand with our team of C&M experts:
FEMI program implementation
FEMI procedures and standards- we customize these to your plant
Program auditing/review
Special emphasis program development
3rd party Level 3 NDE inspection review
Inspector training
Detailed Inspection program development
Below is a table of the practices that Becht offers to clients:
| | |
| --- | --- |
| NUMBER | TITLE |
| BIP.0.0 | Fixed Equipment Integrity General Expectations |
| BIP.0.1 | Deficiency Resolution for Fixed Equipment |
| BIP.0.2 | Fixed Equipment Inspection Intervals |
| BIP.0.3 | Fixed Equipment Integrity Metrics |
| BIP.0.4 | Asset Integrity Turnaround Scope Development and Deferral |
| BIP.1.1 | Pressure Equipment Inspection |
| BIP.1.2 | Piping Systems Inspection |
| BIP.1.3 | Heat Exchanger Tube Inspection |
| BIP.1.4 | Injection and Mixing Point Inspection |
| BIP.1.5 | Minimum Thickness Requirements |
| BIP.1.6 | CML Allocation for Piping and Fixed Equipment |
| BIP.1.7 | Atmospheric Storage Tank Inspection |
| BIP.1.8 | CUI Inspection |
| BIP.1.9 | Soil-to-Air Interface Inspection |
| BIP.1.10 | Small Bore Piping, Deadleg and Dummy Leg Inspection |
| BIP.1.11 | Shell and Tube Heat Exchanger Inspection |
| BIP.1.12 | Air-Cooled Heat Exchanger Inspection |
| BIP.3.1 | Temporary Repairs |
| BIP.3.2 | Pressure Testing |
| BIP.3.3 | Damage Mechanism Reviews |
| BIP.3.4 | Integrity Operating Windows |
| BIP.3.5 | Environmental Cracking |
| BIP.3.6 | Wet H2S Cracking |
| BIP.3.7 | High Temperature Hydrogen Attack |
Risk Based Inspection
Pono has highly experienced RBI experts who helped develop API 580 and API 581 and because of our Corrosion SME's, we can offer industry leading quality RBI implementation services. We focus primarily on revalidations/evergreening and where new Damage Mechanism Reviews are required. Rob Sladek our RBI lead is currently chair of API 581 and an active committee member of API 580. We are software/methodology agnostics and will work with any RBI program/methodology and have partnered with several companies for access to RBI software.
The integration of Risk Based Inspection along with a fully implemented CCD program is a relatively new concept across industry. Our expertise in both RBI and CCDs, as well as other mechanical integrity programs, allow us to deliver the right packaged solution for each client's needs.
Tiger Scoop Metal Sampler
The Tiger Scoop is an innovative new tool for obtaining field samples. Facilities often need to take samples for metallurgical analysis, mechanical testing, or for identifying damage. In the past, this process has been difficult, either requiring additional grinding or weld repair, or 3rd party support to extract the sample.
The Tiger Scoop allows for several different adjustments, including cutting to a depth of up to .35″ with a 1.5″ diameter sample. The cut depth is accurately and easily adjusted for a controlled cut. The Tiger Scoop can be used on any inside diameter pipe or vessel greater than 18 inches and any size outside diameter pipe or vessel. It also can cut many different alloys including carbon steel, stainless steel, and nickel alloys. Because the Tiger Scoop is braced in place, it allows for sampling on non-magnetic materials such as stainless steel.
The Tiger Scoop is fast and easy to use, providing a sample in minutes. It allows for simple maintenance that anyone can perform. The Tiger Scoop is available to own, rent, or have us or our partners provide the service.