Becht Completes Novel Technology Review
Recently, Becht Engineering assisted a client in their consideration of a novel licensed technology process to upgrade a black waxy crude oil to a synthetic crude with improved transportation properties. This proposed upgrade would assist the client to process crude oil. The client requested that Becht Engineering conduct a review for the proposed upgrade.
Our Review and Process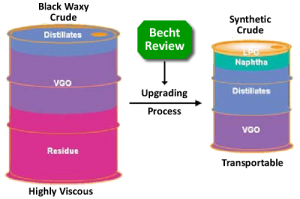 Upon notification, Becht Engineering immediately went to work by preparing a technical due diligence study that consisted of a process technology feasibility review of the proposed novel technology. Utilizing a seasoned technology specialist (SME) in Fluidized Catalytic Cracking, our expert reviewed the process flow diagram, unit configuration, theoretical and lab-based yields, feedstock and other relevant information.
The Becht SME reviewed the data with the objective of identifying deficiencies that would impact the operational success of the novel technology.  He then worked with the client to obtain the necessary data, information, and documentation to conduct the review.
Results
After a thorough technical review, feasibility review, and looking closely at the technology's operation, pressure and heat balance, utilities, catalysts, and chemicals, Becht Engineering concluded five important findings previously unknown to the client that were included in our final report.
Becht Engineering found that while proposed yields for the upgrade were reasonable, the operation of the technology was not feasible without further modification to the system design.  Becht then provided cost-effective and practical guidance that enabled the novel technology to be implemented.
Becht Engineering's Process Technology Subject Matter Experts are available to provide technology feasibility reviews, as well as many other process technology services. Please see our broad range of capabilities at Becht Process Consulting.
Have a question about this article or wish to contact one of our experts?  Click HERE.
Contact