Concrete Encased Grounding Electrodes (Ufer)
With contributing author: Al Aliperti 
This article is intended to stimulate thought and discussion on concrete encased grounding electrodes (Ufer grounding) and is the result of an outgrowth of a recent assignment the author assisted with. The author recognizes the subject is somewhat controversial among electrical engineers and designers.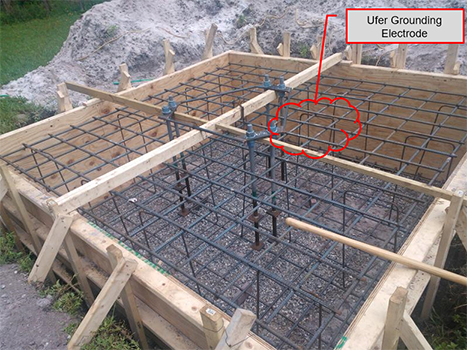 Photo: Rebar cage with embedded Ufer concrete encased grounding electrodes (before concrete pour)
The use of concrete encased electrodes, commonly referred to as Ufer grounding, can save much money and time on new construction of large industrial facilities such as process, power, and pharmaceutical plants. Reducing or eliminating buried ground loops and ground rods generates savings. In addition, eliminating the need for early and often inefficient electrical engineering and construction allows for fast track construction with a minimum amount of rework.
In addition to cost savings, underground corrosion due to the presence of differing metals, primarily copper and steel, can be mitigated by eliminating copper underground. However, Ufer grounding in large process and power plants is not widely accepted for a number of reasons including:
There is much more experience with the ground loop and rod method
The belief that the buried loop and rod system provides lower resistance
Lack of understanding of the use of concrete encased electrodes
Fear of failure during final inspection
Lack of motivation to try something "new"
Lack of attention paid to grounding in general
Lack of current consensus & standards for concrete encased electrodes
A belief that "grounding is cheap" compared to total plant cost
Certain National Electrical Code interpretations
In one illustrated case, concerted efforts were made to reduce plant construction costs and an Ufer system was designed and installed for a large chemical plant in the Gulf Coast area. The client's inspector rejected the installation during final inspection although the Ufer system was indeed safe and met all Codes. The inspector was dismissed by the client and subsequently filed a complaint to the State Board who took no action. The episode ultimately encouraged "never again" attitudes.
Currently, there are National Electrical Code requirements for concrete encased electrodes including length and diameter of rod and amount of concrete encasement, but there are no real consensus standards regarding the details of the system.
The lack of detailed Ufer grounding standards can be demonstrated by the following design issues:
Connection of rebar to rebar
Is more than the usual tie wire connection provided by the foundation contractor required? Should they be welded, thus adding to the cost?
Connection of rebar to anchor bolts
Is a separate direct connection of rebar to at least one anchor bolt required even though concrete itself is a conductor? There is some belief that without this connection a lightning strike will cause the footing to explode due to the presence of moisture in the concrete. But if concrete is a good conductor and there are multiple foundations/footings, then why is this connection needed? Is it because the rebar itself is the electrode and not the concrete encasement?
Connection of foundation to earth
Is a separate electrical wire connection (installed by electrical trade) required to connect the foundation to earth even though the foundation sits in earth itself? The installation of such a connection requires that electrical trades be on site early with concrete trades.
Connection of anchor bolt to steel column
Is it required to run a separate electrical wire connection (installed by electrical trade) from the footing (rebar/anchor bolt) to the structural steel column? Does it assume a bolted connection of the anchor bolt to the column is not adequate? This again requires the simultaneous presence of electrical and concrete trades.
These supplemental connections add to the cost of the system and also add to the problems of installation coordination between trades. The NEC and IEEE do not specifically address these details.
Many electrical engineers believe a Ufer grounding system without any of the extra connections listed above should suffice for most situations with large foundations/footings. However, Becht has only come across one such installation where the grounding system relied only on the Ufer system and the steel structure as the plant grounding system.
(Note: Electrical equipment, in most cases, should still have a ground wire run with the supply conductors). Of course, proper system testing is required prior to plant start up and periodically performed as normal maintenance.
What are your thoughts and experience with Ufer grounding?
Subject Matter Experts (SMEs) in Becht's Instrumentation, Electrical, and Analyzer Division are available to assist in your evaluation of the merits of incorporating Ufer concrete encased grounding in your new foundation design specifications/details.
Have a question or comment? Please click below: