Multi-Discipline Root Cause Failure Analysis (RCFA)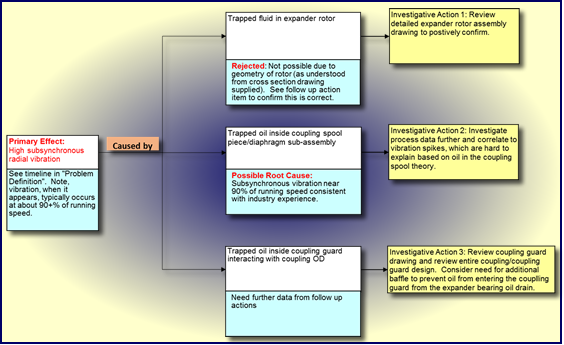 Becht Engineering is at the forefront of performing extensive Root Cause Failure Analyses (RCFA) for its clients in heavy industry. When a full scope RCFA is performed for a client, an experienced and committed team is deployed to multiple areas before, during, and after a Root Cause Investigation. These teams are typically led by an RCFA team lead and supported by appropriate Subject Matter Experts (SMEs) who have specific expertise in the area(s) to conduct a successful Root Cause Analysis.
Becht Engineering recently performed four successful Root Cause Analyses for its clients. These examples highlight how Becht Engineering utilizes our multi-disciplined SMEs to conduct thorough Root Cause Analyses for our clients. And as with any project, Becht approaches RCFAs from an "owner's perspective".
Project 1: Mid-West Refiner – JET Fuel Thermal Oxidation Tests RCA
The Client had experienced a ongoing challenges meeting Jet Fuel Thermal Oxidation Tests (JFTOT) at its Refinery. The Client engaged Becht Engineering to conduct a thorough RCA in support of its JFTOT troubleshooting effort.
Within days Becht mobilized a Process Specialist, two Product Quality Specialists, and a Separations and Fractionation Specialist – each with over 30 years' experience in the industry—along with one Project Manager with 15 years' experience to the site. The team conducted a pre-site data review with Client stakeholders, an on-site assessment, and then provided an analysis and report before presenting an onsite findings presentation. The site visit included interviews with select personnel, field walk-downs, laboratory methods review, and additional data gathering. The report included key recommendations, process history, review of JFTOT failure mechanisms, a cause map, short and long-term mitigations.
Project 2: Midstream Client – Pipeline Fouling RCFA
The Client was experiencing significant fouling that resembled silly putty in its pipeline, which was fed by finished products from a local affiliated Refinery. The material was cleared out several times through pigging but consistently presented challenges to normal business operations over the past several years. The Client initially approached a chemical treatment company to perform an analysis on the foulant. The company then turned to Becht Engineering for the Root Cause Analysis to identify what was causing the pipeline fouling.
Becht Engineering deployed a Senior Analytical Specialist with over 35 years of experience in analytical testing and organic chemistry in the petroleum refining industry. A Senior Project Manager with 30 years of experience in refinery-wide operations and logistics was added to supplement the team. Together they conducted a pre-site data review with the Client and executed an on-site assessment. Finally, an RCFA report was delivered to all stakeholders involved.
The team delivered a detailed report that concluded the theorized foulant mechanism. The team delivered a variety of detailed charts, maps, workflows, and other data arrangements along with a detailed list of solutions and recommendations to mitigate the problem.
Project 3: Gulf Coast Refinery FCC Unit Catalyst Loss Study
The Client's FCC unit had been experiencing above-normal catalyst losses and subsequent erosion effects in the regenerator flue gas HP steam generation coil. Modifications to the regenerator were made during a subsequent outage but did not appear to have the intended effect. After startup catalyst losses increased, the charge rate was subsequently reduced. The Client and FCC Technology Licensor carried out investigations, but no conclusive cause for the catalyst loss was found.
Becht Engineering proposed a review by our team of FCC Subject Matter Experts. An investigation team was deployed that executed an initial assessment that was followed by a formal investigation and mitigation plan. The final report showed Becht's findings: previously unidentified overloading and flooding of cyclones, air maldistribution that exacerbated cyclone loading, and suggested improvements to cyclone geometry.
The team developed and presented reports that covered why the cyclones were overloading, overloading prevention, air distribution issues, and other data points that provided the client with a full understand of the causation and problems that were occurring at the site. Overall, the Becht Engineering team executed the project, found the source of the problem, and all with minimal charges to the client.
Project 4: Midwest Polymers Plant Steam Generation – Root Cause Review
The Client had been experiencing reliability issues with their Utilities System. The site experienced a multiple boiler outage in late 2017 that resulted in a significant impact to their business. The boiler system consisted of three natural gas boilers that produced steam along with Cogeneration facilities. The current facilities have been sufficient during normal weather conditions; however, a complete outage occurred during a period of severe weather conditions. It was unknown if the cold weather had caused the complete outage or simply revealed an underlying cause.
Becht performed a pre-site visit data review, onsite assessment, and developed a report that found the cause of the problem. A Project Manager, Utilities Specialist, and Controls Specialist were deployed to the site for an investigation which ultimately eliminated several factors that would have been a root cause. As a result, the Client was able to eliminate a number of factors affecting its Utility System and ultimately mitigate the issue.
* * *
Becht Engineering has Subject Matter Experts in all equipment disciplines as well as trained reliability professionals who can assist your facility in implementation of RCFA programs. These efforts have significantly improved reliability, safety performance and production in a variety of plants. Please contact us if you have questions about this article or other aspects of plant reliability improvement. You may also post a comment for the author at the bottom of this page. For more information on Becht's RCFA methodology please view this Becht Blog.