Risk Assessment of Refinery Hydroprocessing Unit Reactor Effluent Air Coolers (REACs) Made of Duplex Stainless Steel (DSS)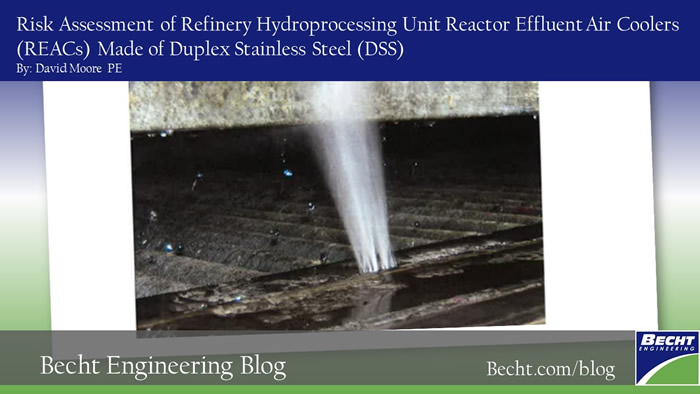 Cracking of REAC Duplex Stainless Steel
Failures of Refinery Hydroprocessing Unit REACs made of 2205 DSS have in some cases resulted in significant plant damage and extended outages for repairs.  In a few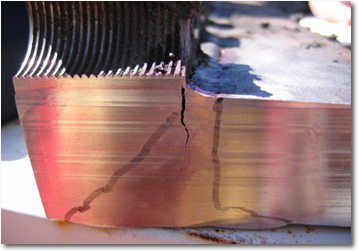 cases, header box welds have ruptured.  Additionally, failures have occurred at tube-to-tubesheet welds and in REAC inlet and outlet piping made of DSS.  A sufficient number of failures have been reported that the API Subcommittee on Corrosion and Materials has initiated a program to survey the refining industry to understand how wide spread the issue is and to better identify factors leading to cracking.  Additionally, some process licensors have notified their customers of potential concerns and have suggested they undertake risk assessments of their DSS REACs.  In early 2016, the Materials Technology Institute (MTI) issued a publication "Fabrication of 2205 Duplex Stainless Steel REACs in Refinery Hydroprocessing Units" that reviewed case histories of failures and provided guidance on factors leading to failures. (Dave Moore is currently the Technical Editor with responsibility for updating clauses in several existing API standards to conduct a further industry survey and highlight potential duplex SS issues).
Becht Engineering has been assisting clients with risk assessments of Cracking of REAC Duplex Stainless Steel based on industry knowledge and experience.
Background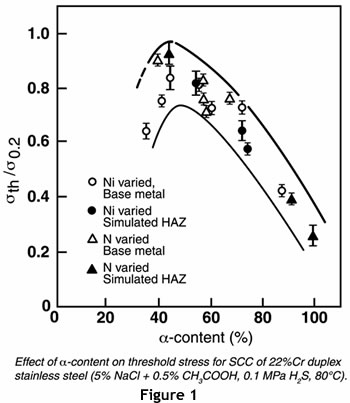 Failures of 2205 DSS REACs have been due to sulfide stress cracking (SSC) of high ferrite weldments.  Ruptures of header box top and bottom plate to plug sheets and tube sheets have caused the more significant failures.  2205 DSS can be susceptible to having a narrow weld heat affected zone (HAZ) that can be high in ferrite.  Typical specifications call for fabricators to demonstrate that weld procedures can produce welds and HAZ with 35% to 60% ferrite.  DSS base metals typically have nominally 50% ferrite and 50% austenite.  As Figure 1 demonstrates, studies have shown that DSS has its best resistance to SSC when the ferrite is nominally 50%.  Welds with good ferrite control have good SSC resistance.  Welds with high ferrite, greater than 60 to 65%, are often susceptible to SSC.
Repair welds during fabrication have been shown to be prone to poor ferrite control, often resulting in ferrite contents well above the 60 to 65% threshold for SSC resistance.
Internal fillet welds also may have poor ferrite control and be susceptible to cracking.  Figure 2 shows SSC in a 2205 DSS REAC that initiated at an internal fillet weld.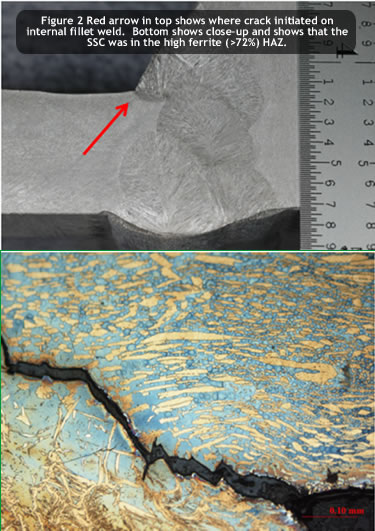 Risk Assessment
The MTI report contains data to show that the REAC environment has caused SSC failures when the operating pressure is high (typically above a 1000 psig threshold) and when the ammonium bisulfide concentration of the cold high-pressure separator water is above 3.5 wt. %.  Under these conditions, hydrogen is charged into the metal.  If the ferrite of the weldments is high, SSC failure may occur.
To assess risk, a first step is to review operating conditions.  If the operating pressure is less than 1000 psig, or if the ammonium bisulfide content in the sour water in less than 3.5 wt. %, the likelihood of cracking is low.  In fact, no industry failures have been reported when one of these two factors are true.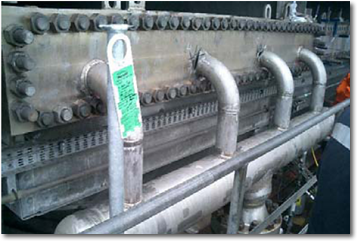 If the operating pressure is above 1000 psig and if the ammonium bisulfide content is above 3.5 wt. %, then the next step to the risk assessment is to judge how effective the ferrite was controlled during fabrication.  This involves a review of the weld procedures (WPS) and procedure qualification records (PQR) to make a judgment of how effective the WPS controls ferrite.  Ferrite readings taken during fabrication on completed welds are also reviewed for consistency with specification and with the PQR results.  High assurance of ferrite control to between 35 and 60% suggests a low likelihood of SSC.  Low assurance of good ferrite control indicates a high likelihood of SSC.
Repair history and weld design are also reviewed to make a judgement of whether high ferrite weldments may be present, leading to an increased likelihood of SSC.
Becht Engineering Can Help
Becht has been helping clients to assess the risk of cracking in their DSS REACs.  Dave Moore, a Becht Materials and Corrosion Advisor, was the author of the MTI publication.  In addition, Becht has been contracted by the API to survey the refining industry to gather a larger data base of experience with DSS REACs and help to define factors associated with cracking.  We can help your specialists with risk assessments of your DSS REACs.
  Reference
"Fabrication of 2205 Duplex Stainless Steel REACs in Refinery Hydroprocessing Units," Dave Moore, Materials Technology Institute, Inc., 2015