The Evolution of Gasoline Blending
The workforce is changing rapidly and the people who will be blending gasoline at a refinery will have a different set of knowledge, skills, and attributes compared to prior generations. This will be the generation that likes to collaborate on platforms instantaneously and make rapid decisions in a constantly changing and challenging environment. This generation will question the carbon footprint and ask corporations to be accountable for their actions. Below is a snapshot of this subset of the population.
Figure 1 – Generation Z Attributes
In addition to the fact that the workforce is changing, the systems that are being utilized to do the same work process are also rapidly changing. For example, the concept of digital twin has greatly resonated across the process industries and organizations have embraced this idea of having a digital twin of their assets/systems to achieve higher efficiencies.
This generational shift both in workforce and systems forces a question for all of us: Are we ready for the Evolution of gasoline blending? Later in this blog series we will touch on what the Evolution of gasoline blending will encompass but first let us define some dimensions and lay out a foundation upon which we can build a successful blending practice.
We could broadly classify blending at a typical refinery in 3 dimensions:
Speed of making a blend
Accuracy of making the specification
Flexibility of making different types of grades
From these three dimensions, we can define types of refiners as follows:
Type 1: A refiner good at all 3 dimensions
Type 2: A refiner good at 2 dimensions
Type 3: A refiner good at one dimension

Figure 2:  Refiner's Blending Typology
The types above do not intend to classify or rank a refiner as higher or low. The classification is more of a position within the 3 dimensions. Once you know where you are positioned, you can move the needle in the direction you want. For example, a refiner along the coast might not focus on accuracy and speed. Their margins might be achieved by having the greatest flexibility to make any grade at will based on market demand. As such, even though they exhibit the traits of a Type 3 refiner with a single dimension, they may still be achieving maximum margin.
Note that there are plenty of other factors that go into the blending ecosystem: pipes, tanks and layout, blend headers, analyzers, lab sophistication, software for online and offline blending, environmental regulations where the refiner is located, just to name a few.
Becht's classification above is targeted from a purely commercial perspective. Meaning, we are defining the robustness of the blending ecosystem in a commercial environment where a giveaway, lost opportunity or slowness can make way for a competitor to step in and cash in.
Now that we have defined the dimensions and categorized refiners from a commercial point of view, our next step is to probe into what the Evolution of blending will look like. We need to look at the overall ecosystem of blending. Broadly speaking, the ecosystem would consist of 3 layers
Layer 1: Data
Layer 2: Systems, processes, and people at the refinery
Layer 3: Systems, processes, and people in supply and trading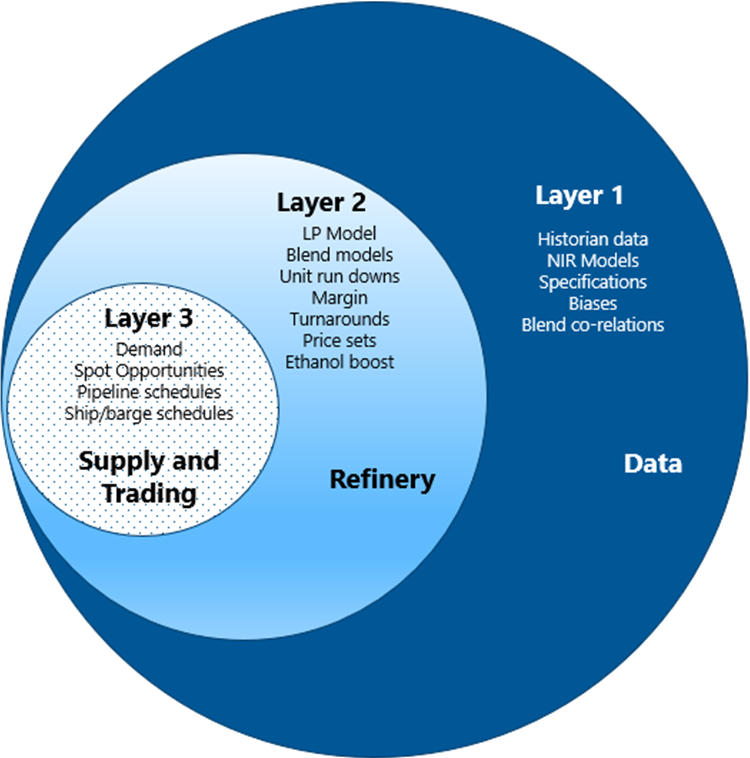 Figure 3 – Blending Ecosystem Layers
We might be tempted to dive into each layer and explore in more detail but let us leave that for the next blog.
In this discussion, let us consider the dimensions we talked about earlier. Before a refiner dives into the layers of the blending ecosystem he should first try and see where their blending system sits currently. To do this we have to quantify the 3 dimensions. The quantification can only be done by looking back at the data and blends historically. A time frame will need to be developed when the data is most representative of the refiner's ability which would include seasonality and planned/unplanned shutdowns/upgrades. A methodology will need to be established where each dimension is now a number or % that can be calculated. Having this will yield the ability for the refiner to move towards the final goal in the Evolution of blending.
One more thing, we will need a final check – "stress testing" of the current system. The purpose of this "stress testing" would be to determine a high level of understanding of whether the system is even capable of taking off or is it too heavy. The stress testing would challenge the system, processes, and people throughout the ecosystem in different ways. Some examples might include a unit upset, a spot cargo opportunity, pipeline maintenance event, last minute volume requests, weather delays, early arrivals, demand changes, or coordination issues between planning and execution. It is as if you are circulating a questionnaire to the ecosystem and asking them how they would respond to the stress testing. You take the answers and compile them in a way that the data can be visualized into a quantifiable result. You then take these answers and combine with the actual historic data and determine what are the biases present in the system and at which levels.
With this well-defined framework we can focus on and dive deeper to derive meaningful insights. Armed with deep insights into the dimensions, types, and layers of the ecosystem we can design a stress test that would provide direction to get to the Evolution of blending. You may be asking, what is the Evolution of gasoline blending.
Let me start with our first example. Let us say you have a spot cargo that fetches a good price, but you will have to give away octane on this blend. Commercially, you would certainly do it while trying to minimize the giveaway and keep an acceptable speed of blend, keeping in mind the next cargos, so as not to incur excessive demurrage.
Another example could be a planned turnaround and on a base level you are gathering, or dispensing gasoline components based on monthly commitments. The commercial need here is to maximize profit during the turnaround while maintaining a consistent supply in quantity and quality to customers. Commercially if an opportunity arises one would sell a spot cargo before the turnaround for a hefty margin and make up the committed volume later by a swap.
The Evolution of blending will be evangelizing this commercial mind set throughout the ecosystem. Current offline and online blend optimization software encompass these commercial aspects but unfortunately, they sit siloed in each layer and sometimes more silos exist within each layer.
In our next blog we will dive deep into each layer and discuss their systems, processes, and people. Who does what, how often, how the information flows, and what bottlenecks exists? This exercise will help us define our stress testing process and the parameters needed to be included in the testing.
At Becht, we provide expert consulting and plant services to refineries and chemical plants in this value chain optimization space. Contact us to discuss how Becht can help you in this evolving space of gasoline blending.
If you would like to contact the author or anyone at Becht regarding your blending questions, please click below: