Identifying Gaps in Risk Based Inspection Programs (RBI) That Impact Reliability
Risk based inspection (RBI) is a powerful tool to identify and manage mechanical integrity risks in fixed equipment and piping but is only one part of a robust reliability program. RBI informs inspection decision making on where, when and how to inspect most of equipment but is frequently misinterpreted as a "Silver Bullet" that covers all necessary inspection activities in a refinery. Most RBI programs have significant gaps that can result in costly reliability issues or unjustified maintenance costs.
RBI gaps can exist where risk assessments require input from outside of an inspection department or mechanical integrity group. Examples of these gaps are when failures have process consequences but not mechanical integrity concerns, such as tube leaks in shell and tube heat exchangers and cyclones in an FCC Unit. Another example is when mechanical integrity is dependent upon other systems functioning per design, such as fired heater tubes. Quantitative RBI Programs are not equipped to capture these types of failure scenario or risks. API-581 does Includes a methodology for calculating tube bundle life, but this module provides only one piece of puzzle to risk assess tube failures.
Examples of Gaps – Exchanger Tube Bundles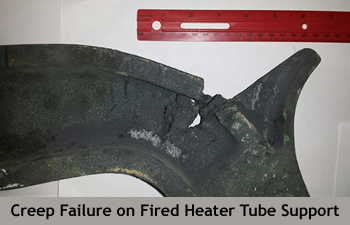 We can examine a Crude Unit feed preheat exchanger as an example. The atmospheric tower feed is preheated in a shell and tube heat exchanger using the tower bottoms reflux as the heating medium. The feed is at a higher operating pressure than the reflux so in the event of a tube leak, desalted crude will leak into the reflux which is sent back into the atmospheric tower. The consequence of a small leak is minimal and is unlikely to be detected. As the leak increases in size and is eventually detected, a planned outage can be taken for repairs. This is an example of a low consequence tube leak.
We can contrast the feed preheat exchanger scenario with a higher consequence tube leak on a product rundown exchanger. The purpose of the rundown exchanger is to cool finished products enough to meet tankage temperature limits. The finished product must meet specifications and even a small leak can result in off-spec product. A leak will be detected during sampling and the exchanger will have to be isolated for repair immediately or risk a tank full of off-spec product. Depending on the configuration of the unit, this leak can result in lost production and a financial consequence that is not normally captured as part of an RBI Program.
From a reliability perspective, the consequences of tube leaks for these two exchangers differ significantly. Therefore, the inspection technique, inspection frequency, and bundle replacement strategy should differ as well. To develop a comprehensive strategy requires process, operations, and inspection working together to develop a holistic reliability plan.
Part of the solution can be to develop a criticality ranking for tube bundles. Rankings can be separated into three categories (high, medium, and low) depending on the consequences of tube leaks. The main considerations in the criticality ranking are as follows:
What effect will a tube leak have on the process?
Can the exchanger be isolated on the run or will it require a unit slowdown, or shutdown? If a slowdown or shutdown is required; what is the duration and the financial consequences of the lost production?
Is the bundle an off the shelf item or an exotic metallurgy that is a long lead time item?
The bundle criticality can then be paired with the probability of failure and used to determine level of inspection, and tube retirement criteria.
Examples of Gaps – Fired Heater Tubes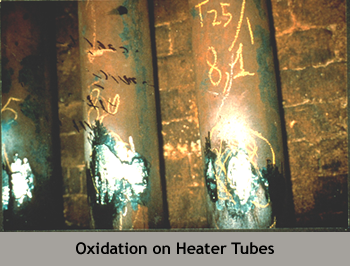 Another example of a typical gap in an RBI program is fired heaters, which exemplify a multi-disciplinary type of equipment. Safe and reliable operation of fired heaters requires input from inspection, operations, process, instrumentation, and fireside and refractory specialists at various times in the equipment lifecycle.
Fired heater tubes are commonly treated as a piping circuit or pressure vessel in RBI programs which can lead to poor reliability and unexpected failures. Mechanical integrity of heater tubes is dependent upon reliable operation of heater systems including burners and instrumentation. Tubes also require different types of surveillance than a regular piping circuit or pressure vessel.
For example; in hydro-processing units at the beginning of a turnaround cycle the fired heaters run at lower temperature because the catalyst in reactors is fresh and very active. Over the run, the catalyst activity decreases and this is compensated for by increasing the firing rates of the heaters. These increased firing rates can exceed tube metal temp (TMT) limits, potentially resulting in creep damage, carburization and reduced tube life.
High TMTs can also be caused by several things including temperature excursions, burner fouling or damage, over firing, scale build-up, or internal fouling. Managing the mechanical integrity of fired heater tubes requires more than just inspection. It requires setting and stewarding TMT Limits, operational awareness of limits, notification of inspection as conditions change, and inspection planning that corresponds with unit operational cycles.
Addressing the Gaps
The first step is awareness and identification of the gaps in your RBI Program. Then, tools and work processes need to be identified to address your specific gaps. Here are some examples of work processes that can be used to fill the gaps:
Criticality assessments can be used to prioritize what equipment needs to be addressed first based on the potential impact to unit and refinery operations.
Equipment Reliability Plans can be developed for critical equipment that is not covered by RBI. These plans are multi-disciplinary by nature and will facilitate the interactions between disciplines that are necessary to develop the full picture of how to maintain safe and reliable operation including but not only mechanical integrity.
Fire Heater specific tools and analysis. These tools can range from conducting remaining life assessments of tube, establishing Integrity Operating Windows (IOW), conducting risk assessments on heaters to identify vulnerabilities.
For information on Becht Services that can help address Gaps in RBI Programs follow the links below:
Reliability of Fired Heaters OR Equipment Reliability Planning
Have a question or would like more information? You may post to this blog (below) or click the link below for more help from Becht's Reliability Group.