Managing The Life Cycle Of Coke Drums
The Becht team of ABBY KING, N CHITHRANJAN and MITCH MOLONEY recently published an article featuring the Life Cycle of a Coke Drum. This article was published in Petroleum Technology Quarterly.
 – Below is an excerpt of the article –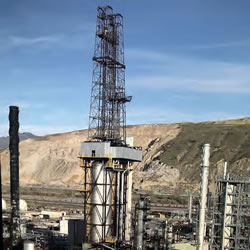 Coke drums are fatigue machines. Fatigue damage accumulates with every cycle and cannot be reversed. Fatigue damage is not easily measured like corrosion, and will manifest in cracking over time, occurring first at the highest  stress areas. The location and rate at which this fatigue damage occurs is different for every coker and is dependent upon numerous factors such as the design and operation of the drums (see Figure left). Understanding how much fatigue damage has accumulated along with how quickly it will continue to accumulate and when to take action is critical to managing the life cycle of coke drums.
As fatigue accumulates in coke drums, more frequent inspection and repairs are needed. There is no true 'end of life' for coke drums, instead there is a turning point when outages for inspection and repair or unplanned downtime with reactive repairs outweigh the cost of replacing the drums. Predicting the point when these costs will increase allows time to weigh the economic benefits of the repair and/or the replacement options. Without this forward looking assessment, many sites have found themselves having to react by making very costly repairs, not necessarily because they are the best option but to buy time to plan for drum replacement.
For these reasons, it is critical to know where in the life cycle coke drums are, although this step is easier said than done. Coke drums fall outside of programmes that are used for other pressure vessels, tanks, and piping, such as risk based inspection…
For more information, please click the link below: