COMPLIMENTARY DOWNLOAD:
TURNDOWN FIRED EQUIPMENT.
OPERATIONAL AND INTEGRITY CONCERNS FOR FIRED EQUIPMENT DURING TURNDOWN OPERATIONS.
Download the PDF Now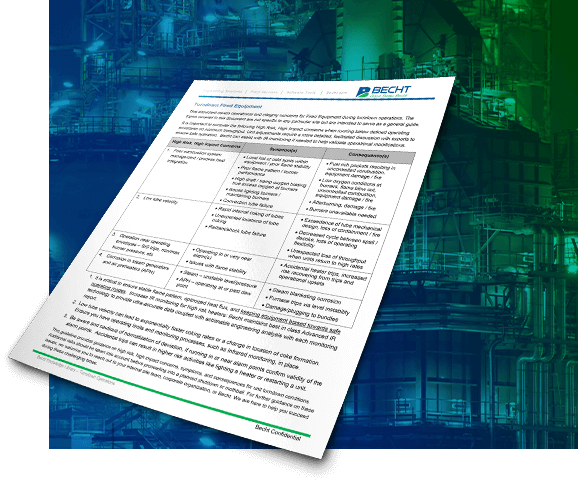 TURNDOWN AND SHUTDOWN SERIES:
See the complete Equipment and Unit Turndown and Shutdown Series of topics as part of BechtConnect™, the global engineering knowledge-on-demand platform for the energy, process and power industries.
The series including high risk, high impact concerns, symptoms and consequences to evaluate during transient operations in conjunction with expert insights.
The Turndown & Shutdown Series includes the following:
Turndown Equipment:
Turndown Boilers
Turndown Plant Electrical System
Turndown Rotating Equipment
Turndown Safety Interlock System
Turndown Process Units:
Turndown Continuous Catalytic Regeneration (CCR) Reforming
Turndown Semi-Regenerative Catalytic Reforming
Turndown Amine Unit
Turndown Sulfuric Alkylation
Turndown Hydrofluoric Acid Alkylation
Turndown Hydroprocessing Units
Turndown Crude and Vacuum Units
Turndown Delayed Coker
Turndown Fluid Catalytic Cracker
Turndown Hydrogen Production
Turndown Lube Extraction
Turndown Olefins Units
Download the Turndown Fired Equipment PDF