DRONES Part 1: Applications, Value Proposition and Risk Management
Last month, Becht facilitated a knowledge sharing event between 25 innovative individuals from nearly a dozen energy industry owner/user organizations. One topic was drone based inspection. Here is an excerpt from Damodaran Raghu's technical primer which kicked off the group discussion, one of many covered during the sessions.
With contributing author Mark Fronek
Digital Transformation
Process plants, chemical plants, and refineries have documented significant benefits from initiatives in the digital transformation space. Most benefits of these initiatives are realized in labor, maintenance, and safety/reliability. Surveys indicate that, when impactful digital transformation is implemented, savings in labor and maintenance activities of up to 40% and 30%, respectively, can be realized. Benefits to safety are obvious, although not always quantifiable. While digital transmission benefits tend to improve the bottom line across the board, they are more impactful for refineries with high Nelson complexity indices and low to medium throughputs. Surveys also indicate that although the greatest benefit for refineries can be realized in reliability and maintenance, budgets spent do not always reflect the needs in these areas.
Maintenance costs for a refinery range anywhere from $10M to $100M per year depending on the size of the facility. Figures from 2018 indicated that refineries in the US spend more than $1.28B for maintenance activities. Labor and reliability comprise a significant percentage of this cost. Improvements to inspection monitoring, sensing of equipment, and novel means of performing maintenance and replacement can significantly improve this figure – and drone technology can enable these improvements.
Drone Applications for Digital Enablement
Drones have become significant enablers in the ongoing quest to optimize inspection, maintenance, and replacement costs. The versatility of a drone in the variety and types of tasks it can perform has made it an extremely attractive and cost-effective proposition for process plant operators.
What Are Drones?
The term drone usually refers to any unpiloted aircraft. Sometimes referred to as unmanned aerial vehicles (UAVs), these crafts can conduct an impressive range of tasks, ranging from military operations to package delivery. Drones can be as large as an aircraft or as small as the palm of your hand.
A drone system consists of (1) the delivery vehicle, (2) a variety of payloads, which can range from monitoring and sensing equipment to robotic payloads, and (3) the analysis software. The third element in the drone system – analytics – is performed by examining the data that is obtained through a range of software, aided by machine vision, artificial intelligence, and machine learning.
Drone Payloads
Modern drones can carry an impressive range of payloads. The most used is an optical high-resolution camera (RGB) to take visual images and conduct measurements along with associated software to perform image recognition and analytics. Drones also carry infrared (IR) imaging cameras and associated software and analytics to enable inspection of stacks, refractory lined equipment, furnaces, and, more recently, to inspect and detect areas prone to corrosion under insulation. OGI camera payloads are extensively used for detecting fugitive emissions and leaks. Drones also carry LIDAR payloads with applications in construction management and measurements. More recently, various robotics systems are also incorporated as drone payloads to enable the performance of specific tasks, such as thickness measurement or other mechanical tasks that may be difficult or dangerous for humans to perform in certain conditions.
Applications of Drones
The oil and gas/energy industry has successfully employed drone-based applications with significant techno-economical, health, security, and safety benefits.
In a refinery setting, drones are employed mostly in three specific areas: (1) for monitoring specific activity, (2) for monitoring specific assets, and (3) for safety and security surveillance (see Figure 1). Most drone applications fall under inspection and monitoring of assets, followed by safety surveillance (see Figure 2).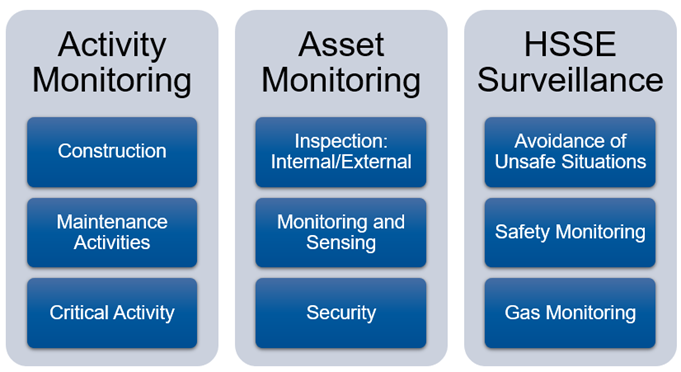 Figure 1: Drone Applications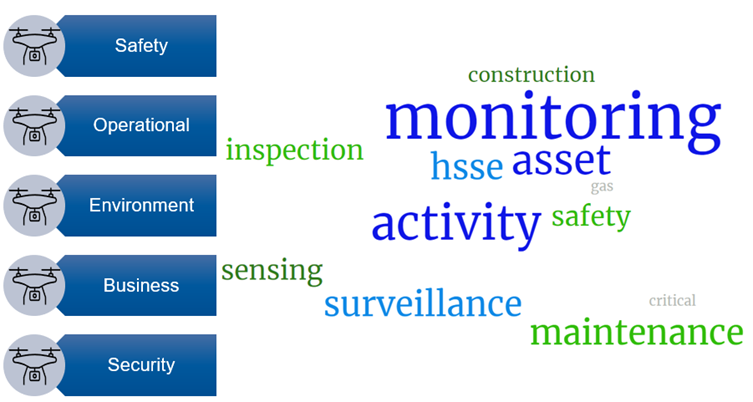 Figure 2: Common Drone Applications in Process Plants
Value Proposition
Drones offer several value propositions to businesses and organizations, including: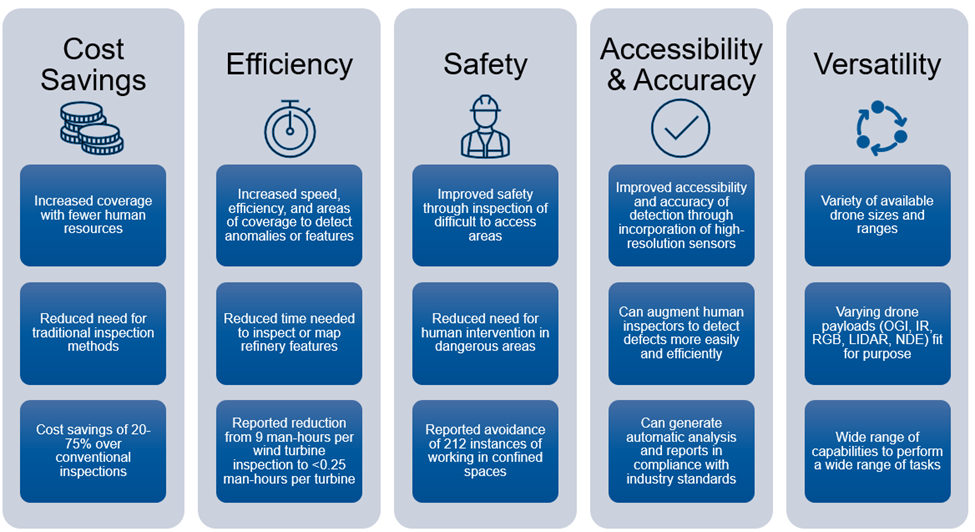 Figure 3: Value Propositions of Drones
Where Does Drone Technology Stack Up in Digitalization Efforts?
The following figure provides an example of the various digital tools and techniques commonly used by refineries. The items in light blue indicate drone applications that enable the digitalization drive. The versatility of drones is apparent from their impact on business drivers – cost optimization, safety, and license to operate, asset integrity, and reliability.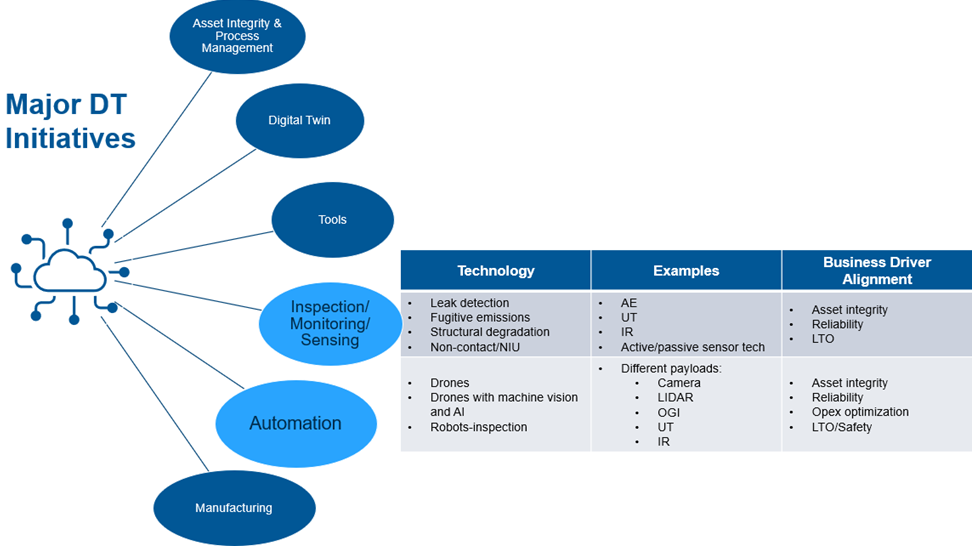 Figure 4: Benefits of Drones in Digitalization Efforts
Are Drones Safe?
Like any technology, drones are not without risks in their operation. However, over the years, prudent engineering and safety design has enabled significant risk reduction to meet ALARP requirements. The following table provides an overview of typical risks associated with drone inspections, and how the risks are successfully mitigated.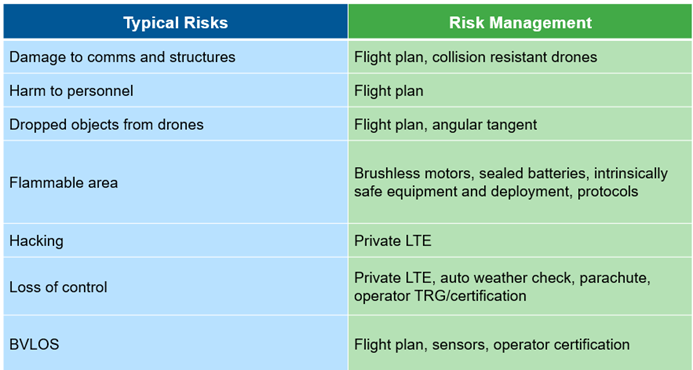 Table 1: Typical Drone Risk Management
Becht can help identify value and help prioritize digital initiatives, we can provide subject matter experts to support in implementing and executing pilot projects including vendor selection, creating and accelerating user groups across multi-site organizations, and facilitating multi-organization unbiased discussions of digital transformation.
UPCOMING: DRONES Part 2 will focus on Regulatory Requirements, Implementation & Deployment