Fitness for Service (FFS) Analysis for Major Refinery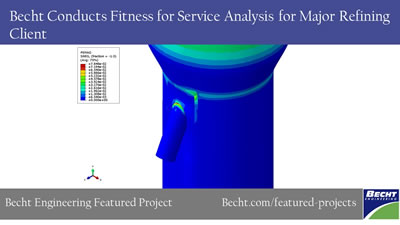 Becht Engineering recently conducted a Fitness for Service analysis of an FCC Regenerator for a major refining client. The client contacted Becht after they discovered that the Regenerator had a small region near its riser nozzle with compromised material strength.
Becht conducted a hardness test during the client's March 2018 turnaround and found that the Ultimate Tensile Strength (UTS) at the particular location was approximately 20% lower than the minimum UTS of SA-516 Gr. 70 material. After a detailed analysis, Becht Engineering found the material UTS was compromised because of the previous hot spot at the location, so the strength reduction was likely due to creep damage.
The client requested Becht conduct an analysis in order to figure out exactly what was happening. Becht Engineering did an elastic plastic finite element stress analysis per API 579-1/ASME FFS-1 requirements to determine whether the Regenerator is fit for service with the compromised material property.
Becht's analysis concluded that the FCC Regenerator was fit for service and recommended that the refractory in the hot spot region be repaired to prevent future hot spots. If stud welded anchors were used, Becht recommended a variety of testing options to determine the quality of the weld.
Do you have a question about this article or wish to contact one of our experts?
Contact