1 Million Manhours With ZERO OSHA Recordable Injuries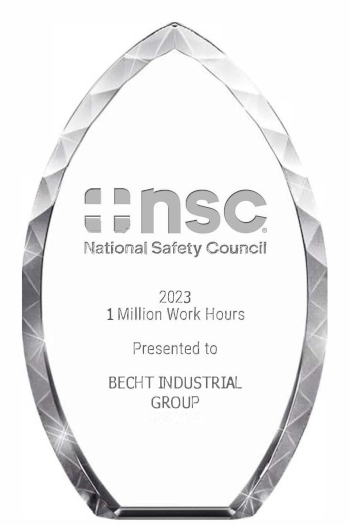 Authored by Troy Lancaster with David Troha
Recently, our dedicated employees reached a major safety milestone. Becht Industrial Group's employees completed 1 million manhours with ZERO OSHA recordable injuries.
Becht Industrial Group is committed to the philosophy that there is no job so important that it cannot be done safely. In our business, the potential for serious injury is always present. This level of achievement in safety requires constant diligence. Our trained and qualified craftspeople dedicate themselves to performing work in the safest possible manner. It is only by doing this, that Becht Industrial Group is able to achieve these milestones.
Becht Industrial Group utilizes programs, safety teams and training to strengthen our safety culture. On all jobs, pre-job safety assessments are completed to identify and mitigate hazards before commencing work. Incidents and near misses are investigated and reviewed by supervisors and managers to identify learnings and implement best practices.
Our safety culture drives our safety performance. We are thankful our clients support this culture and our efforts to take the time necessary to complete our work safely.
The Becht Industrial Group team is very proud of our safety accomplishments and the culture we have developed. And we realize we must continuously maintain our high level of awareness and commitment for Becht Industrial Group to continue to be a safe place to work.
Congratulations to the entire Becht Industrial Group Team! This is just one of many ways We Help Our Partners Win.
Becht Industrial Group is built on a long-standing foundation of commitment to safety, quality and value. Our strategic partnerships enable the delivery of innovative solutions that solve problems and proactively address challenges. Contact us to discover what we can do for you.