Making Bad Actor Elimination Programs Work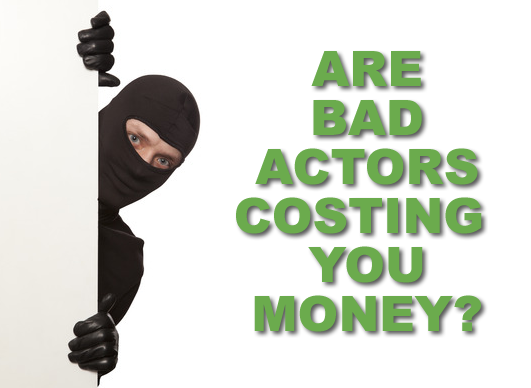 This is the first in a series of Blogs on improving plant reliability programs through improvements in culture, programs and equipment performance. This Blog focuses on Bad Actor Elimination. The second part in this series is titled Reliability Beliefs – Driving Organizational Accountability (click)
Most plants have many pieces of equipment that are chronic problems. In some operations machinery can be the leading cause of outage while in others solids handling equipment, aggressive corrosion, erosion of parts or power failures are the issue. Problems can also be traced back to lack of procedures, poor employee morale or lack of training. These problems impact profitability due to frequency of outage, cost of repairs and cost of lost production.
…studies have shown the cost of unplanned and emergency work is about four times the cost of planned work…
Many studies have shown the cost of unplanned and emergency work is about four times the cost of planned work. This is due to pulling people off planned jobs to address emergencies, lack of a plan when equipment crashes unexpectedly, lack of spare parts, overtime or premium pay for repair shop space and sub optimal sequencing of work.
Process and personal safety are also major considerations in a plant with chronic equipment issues. Frequent failures can result in release of process materials, fires, personnel exposure and each maintenance activity comes with certain risks. These risks increase when equipment fails unexpectedly and there is pressure to restore operations.
These problems can also impact employee morale due to interruption of planned work, pressure to improve the situation and frustration that another evening or weekend is disrupted once again repairing the same piece of equipment. We term these equipment items "Bad Actors."
It is critical that a plant takes some specific actions to eliminate "Bad Actors." The first step is to identify which pieces of equipment are truly impacting safety, production and cost. Early in the program simply interviewing the operations and maintenance personnel in a plant will likely identify the top "Bad Actors." However, to truly get a handle on this situation, data is required. The computerized maintenance management system (CMMS) should be a key element in this process. Queries of maintenance costs and number of outages by equipment type should first be developed to identify classes of equipment that are problems. Cost of production loss should also be developed or estimated. This can be put on three Pareto charts showing frequency of outage, cost of repairs and production loss. Then a drill down should be done to also determine which specific equipment tag numbers are the worst performers. By doing this exercise and displaying the results on a series of Pareto charts, the plant should see if they have a problem with a specific pump service, for example, or if the entire pump program is an issue.
After this exercise is completed the plant will also be able to see the reward or opportunity for improvement in reduced maintenance cost and added production. The next step in the process is to be able to identify the root cause of the problem. Once this is done an evaluation of the cost of the remedy and likelihood of success can be developed.
Root Cause Analysis (RCA) is an effective tool in the Bad Actor elimination process; however, this alone does not solve the problem or improve equipment performance. There are several steps beyond the RCA that must be executed to achieve equipment performance improvement. A building block process to achieve this success is illustrated below:
This stepped process includes a number of elements subsequent to
Equipment Failure. A
Firefighting step may be taken to restore production. At the same time the failed
Parts should be Captured in the "as failed" condition to preserve evidence of the failure and to assist the next step,

Root Cause Analysis. The RCA can utilize a number of methods. The key to a good RCA is to have a broad, knowledgeable team and the right data on the failure. The next steps are to

Engineer a Solution,

Fund the Effort and

Execute the Work. An

Evaluation of the success of the fix should be performed. It is critically important to get the problem solved the first time to demonstrate the process is effective and gain credibility for the program. In some cases, spending a bit more for a sure solution is better that trying to shave cost with a marginal solution.
Many plants fail to realize there will be no improvement in equipment performance until the seventh step in this sequence,

Field Execution, is achieved. In fact – if the seventh step is not achieved, the efforts up to that point will result in additional costs for analysis, engineering, preparing funding requests and other waste. Many plants get caught in a "do loop" ahead of field execution of the solution. These loops may include pure firefighting where the plant is in a fail-fix-fail recycle loop. Other plants may have sound root cause analysis but fail to get to the engineered solution, funding or field execution. These plants will have significant difficulty addressing chronic equipment issues.
The last step in the process,

Performance Evaluation, is key to determine the effectiveness of the solution — especially if the solution is to be applied to an entire class of equipment. Moreover, this is vitally important if the root cause analysis identifies human factors or procedures as the problem. Evaluation of the effectiveness of training and change management is an important step.
Becht Engineering has experts in all equipment disciplines as well as trained reliability professionals who can assist your facility in implementation of effective programs. These efforts have significantly improved reliability, safety performance and production in a variety of plants. Please contact us if you have questions about this article or other aspects of plant reliability improvement. You may also post a comment for the author at the bottom of this page.
Contact Becht Due Diligence Contact Becht Reliability Services