Robotics and Risk Based Inspection Assessments Tools Supporting Storage Tanks Integrity Management Optimization
Article recently published in  Feb 23 / Mar 23 Tank Storage Magazine
Aboveground Storage Tank (AST) owners and operators are under pressure to improve risk adjusted economic return through proactive and thorough Environmental, Social, and Governance (ESG) programs.  Quality programs that include tank inspection, repair, and maintenance have historically been developed using a time-based inspection approach to comply with API 653 or EEMUA 159 guidelines in support of regulatory requirements. Robotics and Risk Based Inspection (RBI) assessments are now being used to offer high quality, proactive, compliant, internal tank inspections without taking a tank out of service.
The most current version of API 653 lists the minimum data fields required to perform an API 580 compatible RBI analysis (listed in paragraph 6.4.2.2.2.1).  Performing RBI analysis on tanks has historically been challenging due to the lack of data and compounded by the fact that there are long interval durations between tank internal inspections.
Information acquired through robotic technology to feed RBI assessments enables tank integrity practices to be fully aligned with commercial requirements without increasing risk. In-service robotic inspections acquire supporting Probability of Failure (POF) and Consequence of Failure (COF) data without taking tanks out of service to perform an internal inspection.
In this article we discuss the industry trends in tank integrity and the latest in robotic technology and RBI assessment approaches allowing the novel use of in-service robotic inspections to acquire supporting POF and COF data without taking tanks out of service to perform an internal inspection.  The importance of the risk-based identification of good actor tanks and its relationship with the identification of right candidate tanks for robotic technology implementation is also highlighted.
Introduction
Traditional inspection methodologies and techniques require tanks to be taken out of service for preparation and inspection at a specified time.  Unfortunately, traditional time-based out of service tank inspection methods disrupt commercial operations and are reactive, expensive, and carry inherent health, safety, and environmental risk.
On-stream robotic tank inspections combined with risk-based out of service inspection intervals offer a much more proactive approach to tank quality and risk management programs with improved commercial economics that should be built into tank owner/operators quality program and AST inspections.
Industry trends in tank integrity and reliability metrics
The tank integrity trend is going from condition-based to risk-based.  Where condition-based approaches are not considering differences in consequence of a failure for different tanks; and the inspection event intervals are based on time arbitrarily set per regulations, codes, standards, or company policies.  Also, condition-based approaches rely on trending degradation mechanisms that cannot always be effectively modeled to produce representative rates of degradation.  The risk-based condition approaches include analysis of consequences beyond the loss of containment event, and analysis of likelihood based on probability.
The risk-based approach is allowing tank owner/users to identify and differentiate from good actor and bad actor tanks.  The optimization of integrity programs for good actor tanks is now occurring showing interesting and promising trends on extension of internal inspection intervals.
Table 1 – Internal Inspection Intervals Trends
The "unlimited" maximum internal inspection interval for good actors is achievable based on a well developed and implemented tank integrity program with clearly defined actions for different stages and stakeholders.  Starting with the design and construction of new tanks with safeguards, executing the retrofit of existing tanks to incorporate mitigations; and implementing risk assessments supported with data gathered from non-intrusive / in-service inspections.  Table 2 below shows a summary of actions toward the optimization of the tank integrity program.
Table 2 – Good Actor Tanks – 3 Actions toward optimization
These actions toward optimization require investment in assessments to identify the good actor tanks, but then the savings from the internal inspection intervals freed up resources for investments to design and construct new tanks with safeguards and even more impactful convert bad actors to good actors by retrofitting them with mitigations.  The non-intrusive / in-service inspections based on externally applied NDE, or robotic inspections provides the opportunity to have data points on good actors to support continuity in-service and have data on bad actors to develop optimized scope of work of repairs before taking them out of service.
Many tank owner/users are reporting short term savings in the first 5 years of the implementation of tank integrity risk-based programs by identification of good actor tanks with internal inspection intervals extended for at least 5% of the tanks that were planned to be taken out of service. Average saving per deferred tank has been identified as $400K, while the tank RBI assessment investment per deferred tank has been identified around 1% of the out-of-service maintenance and inspection costs.  The cost of non-intrusive / in-service inspections based on externally applied NDE, and robotic inspections has been identified around 10% of the out-of-service maintenance and inspection costs.
Other side benefits are the implementation of tank integrity risk-based program with a better understanding of the risk profile across the tank fleet defining the relative risk rank for all tanks, which is helping to level load annual tank maintenance, while providing more operational and commercial flexibility.
The latest in robotic technology for tanks – Second Generation Robots
The second-generation robots include hovering, swimming robots that are capable of autonomously navigating around or over obstructions within the tank to safely provide more extensive internal tank coverage.  These autonomous robots are energized and controlled at the robot and only a non-energized, quarter inch diameter fiber optic communications tether is used to monitor the robot from an external mobile trailer.  These robots measure the tank bottom and annular plate thickness of ASTs filled with water and high flash point products including diesel, jet fuel, kerosene, distillate, or similar refined and chemical products. Second gen robots are currently equipped with the ability to combine Phased Array Ultrasonic Testing (PAUT) or Pulsed Eddy Current (PEC) with two high-definition video cameras.
RBI approach to acquire POF and COF data from in-service robotic inspections
RBI tool specifically developed for tank applications uses a point score system for the analysis of POF and COF attributes. The scores are plotted on the owner/user risk matrix to determine the relative risk of tanks.
POF attributes obtained from in-service robotic inspections data:
Confirming repair records
Corrosion rates
Cracking concerns
Differentiating between product side and soil side corrosion
Confirming tank floor construction (welded vs riveted)
Confirm the operating temperature
Performs a tank settlement survey in-situ under loaded conditions.
Confirms condition of the liner
Confirm performance of the CP system
Confirms quality of the inspection documentation
Confirm the tank internals
Figure 1 – Tank Bottom Settlement POF Attribute Example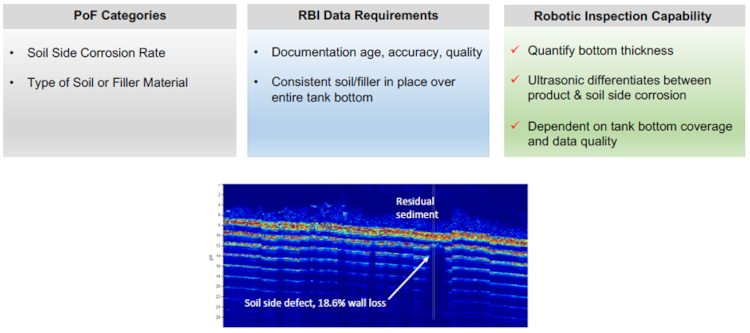 Figure 2 – Tank Bottom Side Corrosion POF Attribute Example
Conclusions
The implementation of tank integrity risk-based programs with the goal to identify good actors tanks is critical to confirm instant availability and free up resources to leverage the investment needed to eliminate bad actors tanks.
The identification of candidate tanks for robotic technology is very important to support the continuity in service of good actors tanks, to level load inspection and repair programs and budgets, and to optimize repairs in bad actors tanks.
Combining second generation in-service robotic inspections with RBI tank customized tools allows the opportunity to develop and implement risk-based / non-intrusive tank reliability plans.
Becht works closely with Square Robot to optimize your tank integrity. Please contact us with all your tank needs.