Cost, Schedule, Quality – Pick Two … Isn't Always True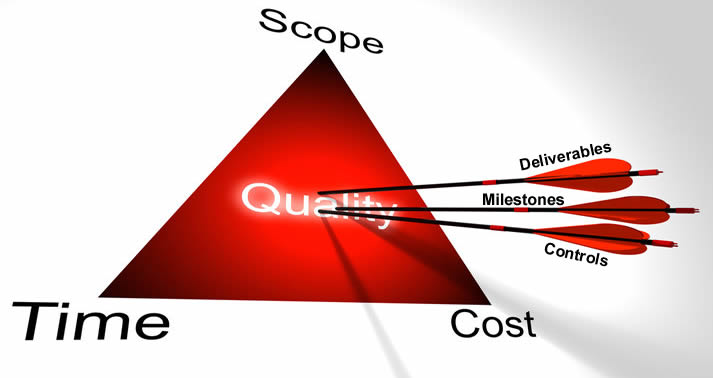 – Achieving Excellence in Any Project –
The old saying in managing projects was Cost, Schedule and Quality. Pick two. This is because it is very difficult to do a good job on all three of these critical aspects of any project. If we highly control cost, the quality of the finished project may suffer. Likewise, if a project becomes schedule driven, costs may escalate or quality may decline. In order to excel in all three criteria extensive planning, scheduling and quality control measures must be implemented. This blog discusses critical elements to achieve cost, schedule and quality objectives on any project including turnarounds, major capital projects or quick hit jobs like troubleshooting and due diligence.
Critical elements of a successful project to meet cost, schedule and quality objectives include:
Well-Defined Scope
Team Selection
Controls and Reporting
Milestones
Definition of Deliverables
1. Well-Defined Scope
Probably the most important element of a successful project is a well-defined scope. The scope must clearly define the issue or objective, what we are expected to do and what deliverable is expected. If the scope is well defined we can better judge the size of team, skills required, time, cost and what the deliverable will include. Without this definition it impossible to define the cost, schedule, team composition or deliverables. We often receive calls from clients saying we have a machinery problem or we need fractionation help. While this points us in a direction we need much more definition of the problem, type of equipment, symptoms, cost impact of the issue and urgency to resolve the problem. This can also apply to a major capital project where many clients use a Stage Gate process to assure key elements are incorporated in the project scope and plan before moving to the next phase of the job. Sometimes the client may not know exactly what they want or need and we can support development of a well-defined and agreed scope of work. It is very important the scope is well defined before an attempt to define cost and schedule is initiated. As the scope becomes better defined tighter estimates of cost and schedule can be developed.
2. Team Selection
After there is a good understanding of the scope, cost expectations and timing, a team can be assembled to meet the needs of the project. The team must include client representation regardless of the size of the project. The client team member helps with site access, scope clarification, documentation needs and coordination with other client resources.
We use our standard methods and protocols to assure consistency and potentially reduce the size and cost of the team. On a recent due diligence project, cost was an important factor. In order to meet the cost objective, team size had to be limited. Team members were selected who had both a broad background and also in-depth technical expertise in critical elements of the study. This included mechanical integrity and metallurgical. By combining the selected team members with standard guidelines and protocols we were able to adequately cover an evaluation of other aspects of the operation including instrument and electrical. In the event serious issues were discovered, the client could approve additional discipline experts be engaged to study the issue in more depth.
3. Communication – Controls and Reporting
It is important for the project manager or leader to assure the project is proceeding as planned and on budget. Appropriate controls must be in place to monitor the project and frequent communication with the client is essential. When due diligence, maintenance or reliability projects are executed with an on-site team, we insist on daily meetings with the client to assure alignment on findings, next day schedule and any roadblocks. This helps keep the project on schedule and able to meet cost objectives.
4. Milestones
Regardless of the size of the project it is important to establish key milestones to assure cost, schedule and quality objectives are met. Even on a small due diligence project, milestones are important. These include:
Proposal development and acceptance target dates
Delivery of protocols to site
Date to establish site contact and receive site information
Date team arrives on site and departure date
Final report date
Of course, a complex capital project would have a large set of milestones and progress payments are often tied to achieving milestones.
5. Definition of Deliverables
Significant issues can arise at the conclusion of a project if the deliverable expectations are not well defined upfront. The client may only need a PowerPoint slide show or conclusion memorandum. A lot of time and effort can be wasted if a detailed comprehensive report is developed but not expected or needed. It is like asking what time it is and being told how to build the watch. Clear definition and understanding of the deliverable is critical.
Example Project
Becht Engineering employees pride themselves on being able to deliver on all three criteria – Cost, Schedule and Quality. Recently, we had a challenging due diligence project that was highly schedule driven, cost driven and the client needed an accurate "Go, No Go" answer in a very short time. In addition, the project was during a holiday period.
In this case we were asked to perform a due diligence project on a large refinery that had been shut down for some time and then put on the market. Commercial terms required bids to be submitted in a short period of time to be considered and our client needed a clear view of the condition of the plant and major showstoppers that could extend the transfer and startup period.
After clarifying the scope of the study in a few days, Becht Engineering provided a proposal for the study and was able to meet the client's strict budget requirement. We were able to do this by picking the right people for the team and utilizing our standard discipline protocols. The skills of the personnel matched the critical aspects of the study and by using our protocols the team was able to ask the right questions in other technical areas to evaluate the condition of other parts of the plant. Our proposal was accepted and the personnel were on site 3 days later. The study was completed in 2-1/2 days of work on site including complete plant walk down, interviews of key personnel and some examination of records. In order to control cost and expedite the results of the study, Becht and the client agreed on presenting the results in a PowerPoint presentation rather than by preparation of a comprehensive written report. This allowed us to communicate the results several days faster than would have been possible if a written report had been required. The client was very satisfied with the overall approach and final product.
Key elements that were needed to meet cost, schedule and quality requirements on this job included:
Creative approach focused on potential key issues
Ability to quickly field very high-quality personnel who could mobilize immediately even considering holiday time
Excellent working relationship with the client which allowed good communication about scope, schedule and expectations of the study
Availability of knowledgeable personnel at the plant despite the plant being shut down
Flexibility by the client to accept (and in fact, want) the results presented in PowerPoint format instead of a written report
Summary
Key take-aways to make your project successful include:
Scope Definition

Assure scope is complete, reviewed internally and signed off
Engage a competent EPC contractor to support scope development on large jobs
Utilize a Stage Gate process on major projects
Assure all participants are well versed in the scope document

Select an A-Plus Team

A seasoned Project Manager with appropriate experience should lead the team
Engage cost, schedule and procurement leaders with similar project experience
Utilize experienced discipline engineers on the team who are well versed in scope and standards
Establish a positive relationship between the owner's team and contractors
Assure there will be continuity and procedures to transition from engineering to the field for efficient and complete hand offs
Assure there are written roles and responsibilities for all project members

Controls & Reporting – The necessity of good communication

Establish appropriate meeting schedules with project team and contractor
Utilize standard reporting format for progress, milestones and hours earned
Monitor progress against budget
Establish a formal change order process
Assure team personnel and contractor personnel are working together

Set achievable Milestones

Seek input from similar projects for lessons learned, schedule and issues
Push back on unrealistic schedules dictated by others
Establish reasonable contingencies
Seek bids for critical equipment before setting final schedules
Obtain input from construction companies on realistic schedule for field work

Define the Deliverables

Clearly define deliverables for small and large projects
On large projects establish acceptance criteria
Assure Stage Gate deliverables completed prior to moving to the next phase
Streamline reporting to assure information is value added
Becht Engineering has extensive experience supporting complex projects of all sizes. We have a large staff with broad experience in all aspects of the nuclear, refining and petrochemical industries.
Have a question for Rick? You may post a comment at the end of this blog. Wish to contact him with an inquiry about Becht's services? Please click the link below.