Risk-Based Work Selection (RBWS) – Choosing a Software Tool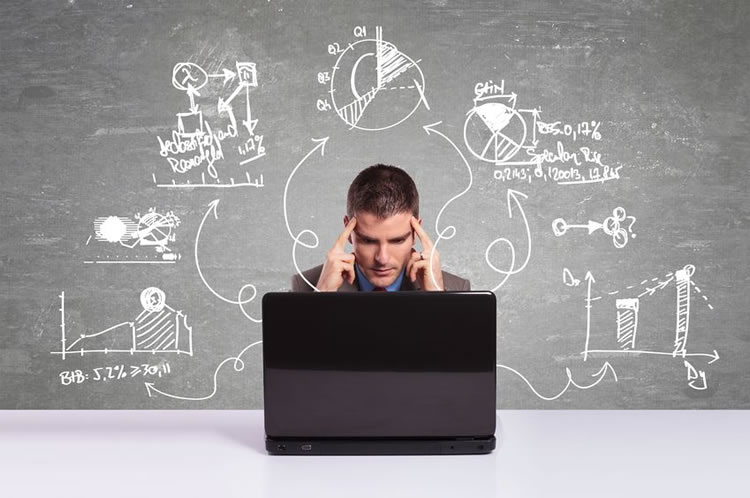 Using the right software tool can save time and improve results of Risk Based Work Selection (RBWS) which is a standalone work process aimed at optimizing turnaround (TA) work scopes. RBWS uses risk assessments to determine if individual worklist items are justified by Health, Safety, & Environmental Risks or Financial Risks. Significant reductions in turnaround work scopes typically result from this structured work process.
Becht Engineering has conducted RBWS sessions using a variety of tools ranging from Excel spreadsheets to our custom-built STRAITS Software. Some tools have distinct advantages over others, so we wanted to highlight why a specialized tool should be used for RBWS and what are the key features to look for when selecting a tool.
Why is a Specialized Tool Needed?
The information necessary to conduct an RBWS should already exist. The challenge is digging the information out of desk drawers, databases, and excel spreadsheets, and organizing it for review during the RBWS. No other tool in the refinery has the structure and required fields to capture the specific subset of data needed for the RBWS. RBWS assessments are for a very specific timeframe; one turnaround cycle, usually 4-7 years. The Software will have this timeframe built into it.
Key Characteristics of an RBWS Tool
Documentation – An RBWS session is only as good as the documentation. Being transparent about the team's thought process and recommendations enables leadership to make informed decisions on what is "in" or "out" of a turnaround and why. Proper documentation helps eliminate recycle before and during the TA and can also be used as the starting point for future turnarounds. A dedicated tool preserves the data and results of the RBWS.
Data Gathering – A dedicated software tool should lessen the burden of data gathering for RBWS. Well defined data fields, along with examples help guide teams during the data acquisition phase. We recommend that teams new to RBWS should have training on the process and the data that they are required to gather.
Facilitation – RBWS requires input from the entire turnaround team with several members participating in a session at any given time. Therefore; being efficient is critical to a successful RBWS. The RBWS tool should ease the data entry, facilitation, and risk calculations done during a session, minimizing the downtime. Toggling between screens and scrolling back and forth, takes time and can be distracting and confusing. An ideal tool will have a single screen that is the focus during the session. That screen will present the data that was pre-loaded along with fields that capture the discussion during the session and show the risk assessment results.
Accessibility – Sharing information across a site or from site to site can add a lot of value for improved workflow, "lessons learned", benchmarking, and to leverage work products from a past TA for a future TA. An RBWS tool should enable this by being accessible. Web Based Tools that can be logged into from anywhere have a distinct advantage over tools that are loaded onto a single computer.
Reporting – A software tool should have reporting capability built-in so it can roll up results that show the items reviewed, deferred, or recommended to be in/out of the TA. Most software have standard report templates but having the ability for customized reports is a beneficial feature. An example of a report that our clients like to see is the Benefit to Cost Graph, which plots each discretionary item in terms of Cost versus Financial Risk Mitigated (i.e. benefit). See Figure 1.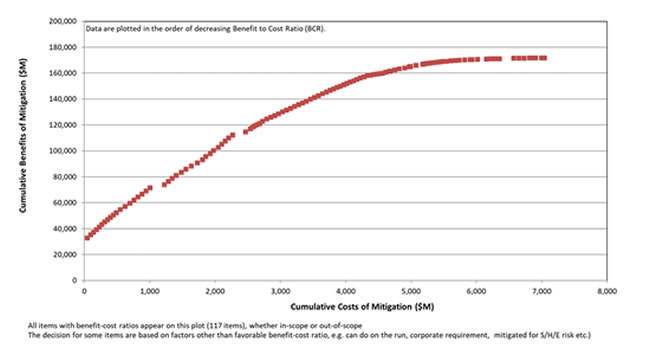 Figure 1
Please Click Here for more information on the Becht RWBS Tool, STRAITS.
To see more on the RBWS process, see these posts:
RBWS A process focusing on turnaround
RBWS An essential step for AT work scope optimization
Have a question or would like more information? You may post to this blog (below) or click the link below for more help.