The Becht Team
Below you will find brief biographies of key Becht personnel. Click on one of the functional areas to bring up persons engaged in that service area..
*** Please note that the listing below is representative of the quality of Becht's staff and not an exhaustive listing of all personnel ***
Request Additional Team Member Info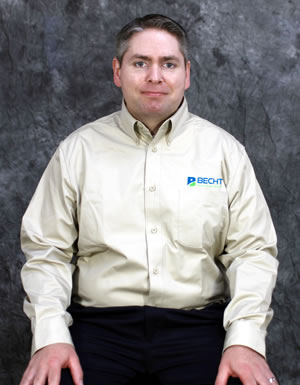 Dave Dewees, PE
Division Manager - Mechanical Engineering, Creep, HTHA and Weld Residual Stress
Dave Dewees has worked in the refining, petrochemical, and power generation industries over the last 19 years. Dave's specialties include:
Coke drum reliability, data analysis and fatigue
High temperature hydrogen attack (HTHA) modeling and assessment
Material property data analysis and allowable stress development
Advanced material behavior modeling

Creep and relaxation
Cyclic plasticity
Damage mechanics
Creep-fatigue

Nonlinear fracture mechanics, including explicit flaw modeling
Thermal-stress and fatigue analysis
Weld residual stress modeling
He is a long time member of ASME (Sections I, III and VIII) and API committees, as well as AWS (weld residual stress modeling). Dave lives in the Cleveland, Ohio area. where he works out of the Medina, Ohio office.
All

Advisor Resources

Becht Canada

Business Administration

Business Development

Business Strategy

Capital Projects

Corrosion Materials

Due Diligence

Fired Heaters

Heavy Lift

Inst/Elec Controls

Leadership

Machinery

Maintenance & Turnarounds

Mechanical Eng

Mechanical Integrity

Nuclear

Piping

Process Eng

Reliability

Training