The Becht Team
Below you will find brief biographies of key Becht personnel. Click on one of the functional areas to bring up persons engaged in that service area..
*** Please note that the listing below is representative of the quality of Becht's staff and not an exhaustive listing of all personnel ***
Request Additional Team Member Info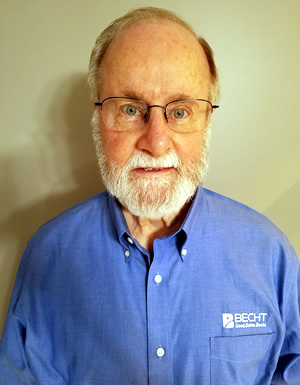 J. Robert "Bob" Sims
Senior Engineering Fellow and ASME Past President
Mr. Sims is a recognized authority in risk-based technologies for optimizing inspection and maintenance decisions; design and analysis of high pressure equipment, including high pressure, high temperature (HPHT) equipment for oil and gas exploration and production and he has extensive experience in mechanical integrity evaluations of existing equipment and Fitness-For-Service analyses. Mr. Sims has served as President of the ASME and member of the Board of Governors; past ASME Senior Vice President for Codes and Standards and past Chairman of the Codes and Standards Board of Directors. He is past Vice Chairman and current member of the Joint API/ASME Fitness for Service Committee that is responsible for API 579-1 / ASME FFS-1, the joint Fitness-For-Service standard that was published in 2007 and he is a member of the ASME Boiler and Pressure Vessel Code Subcommittee VIII on Pressure Vessels. He is an ASME Fellow and has more than 20 publications and two patents and is a frequent speaker and chairman in technical forums. He was responsible for developing the recently published ASME "Guide to Life Cycle Management of Pressure Equipment Integrity". Mr. Sims has been recognized by his peers in the industry as a leader, having received the J. Hall Taylor Codes and Standards medal in 2004, and the Melvin R. Green Codes and Standards medal in 2006. Prior to joining Becht Engineering in 1998, he worked for more than thirty years with Exxon (now ExxonMobil), the last ten years as a pressure equipment specialist with Exxon Research and Engineering Company.
Summary of current ASME Positions:
Past President 2014-15
Board of Governors – Member
Pressure Technology Post Construction Committee – Corresponding Member
Post Construction Subcommittee on Inspection Planning (PCC) – Member
Joint ASME Fitness for Service Committee – Member
Subcommittee on Pressure Vessels (SC VIII) – Member
Subgroup on High-Pressure Vessels (SC VIII, SG HPV) – Member
BPV Project Team on Hydrogen Tanks – Member
All

Advisor Resources

Becht Canada

Business Administration

Business Development

Business Strategy

Capital Projects

Corrosion Materials

Due Diligence

Fired Heaters

Heavy Lift

Inst/Elec Controls

Leadership

Machinery

Maintenance & Turnarounds

Mechanical Eng

Mechanical Integrity

Nuclear

Piping

Process Eng

Reliability

Training